Holy Roller: News Site Told Russian Priest's Land Cruiser Is Off-Limits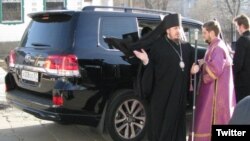 MOSCOW -- A Russian priest with a taste for lavish cars has landed in the spotlight after a furious letter in his name demanded that a regional news site delete its report about his luxury SUV or face a criminal complaint.

The local eparchy of the Russian Orthodox Church in Oryol later labeled Bishop Nektary's letter a "fake," but the Oryol Novosti website insists on its authenticity.

Nektary first came to national attention when several media organizations -- including Open Russia, a rights and democracy initiative founded by former oligarch Mikhail Khodorkovsky -- reported that the priest owned a Toyota Land Cruiser V8 worth upward of 5 million rubles ($88,000).

That price tag represents around 160 times the average monthly salary in Russia.

A spokesman for the local eparchy, Yevgeny Borisov, raised eyebrows nationally when he cast the expensive gift as in keeping with the Christian tradition, saying: "Even Jesus Christ wore expensive clothes given to him by followers. Many saints accepted the same."

The eparchy said the vehicle was given to Nektary by the management of a local agricultural holding to help him minister to its employees, a job that church officials said takes him deep into the provinces along poor roads.

The Oryol Novosti news site* continued its coverage of the unfolding saga on May 29 by publishing a scan of what it said was a letter from Nektary delivered to its offices that afternoon. It added the clergyman intended to sue the site.



The letter, which appeared to include Nektary's signature and the stamp of his office, expressed outrage at Oryol Novosti's "false and insulting" reports. It demanded a retraction.

"Our Lord, Jesus Christ, called for the forgiveness of our enemies, so I'm giving you one chance to correct everything and I DEMAND that the information concerning me in your immoral media be removed," the correspondence read.

The author of the letter finally delivered an ultimatum: If the content was not removed, they would seek criminal charges against the news site "for insulting religious feelings."

That is the same article of the Criminal Code under which Yekaterinburg blogger Ruslan Sokolovsky was given a 3 1/2-year suspended sentence for making a profanity-laden recording of himself playing Pokemon Go inside an Orthodox church.

On May 30, in comments to the Ekho Moskvy radio station, an eparchy spokesman identified as "Father Aleksandr" dismissed the letter as a fake: "I, as the secretary of the eparchal bishopric, can officially declare that Bishop Nektary did not write any letters to Oryol Novosti. That is to say, this letter posted on the website is simply a fake."

In comments to radio station Govorit Moskva, Denis Volin, editor in chief of Oryol Novosti, said he could not be certain who penned the letter but that it was not a forgery and there was no doubt about its authenticity.

"We personally have no grounds to doubt the authenticity of this letter. Moreover, our specialists have now checked the letter. The stamp, signature, and words on the picture were not superimposed."

Oryol Oblast Governor Vadim Potomsky weighed in on the dispute in comments to Govorit Moskva on May 30, siding with the priest and chiding Oryol Novosti.

"You should read the Bible: Judge not, lest ye be judged. When journalists start asking questions, what and how priests live, for me the question arises: Who gave them the authority to ask this question?
"What, did he insult someone? Did he preach incorrectly?... I know that Nektary commands huge respect among residents. I know that Mr. Mazov, the owner of Oryol Novosti, has no right to behave like this."
* This story has been changed to correct the spelling of the Oryol Novosti news site in some references.