A senior spokesman for the Russian Orthodox Church has proposed the introduction of a dress code for all Russian men and women.
Well, mostly women.
In a
short article
published on the Interfax news agency's website, Vsevolod Chaplin, the church's chief liaison with secular society, states that no culture has ever considered appearances a private affair and calls for the introduction of nationwide rules of clothing, following the example of school and corporate dress codes.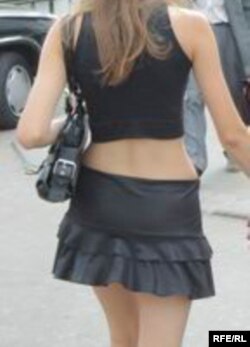 Enjoying her freedom in Moscow
The article was written in response to
an open letter
to the Orthodox patriarch from a group of Russian activists appalled by Chaplin's December 2010 remarks putting the blame for sexual assault on rape victims' immodest dress. Defying the group's call for a public apology, Chaplin reiterates his view that a woman who wears a skimpy dress and lots of makeup -- "like a clown" -- can only attract "a drunken idiot" and says he hopes to see the day when indecently dressed individuals will be escorted out of public spaces -- with the exception of brothels or strip bars, he notes.
Chaplin, who wears a traditional black priestly frock, does not specify the lengths, sizes, or colors of acceptable clothing items; nor does he say whether the proposed dress code should be enforced by religious or secular authorities.
Veteran Russian human rights activist Lyudmila Alekseyeva scorned Chaplin's idea. "It's all nonsense. People should dress as they like. Next they'll be telling women not to wear lipstick," she told Interfax.
-- Pavel Butorin