Saudi Arabian state television quotes that country's Interior Ministry as saying it has banned all protests and marches.
The official SPA news agency quotes an Interior Ministry statement as saying that "Regulations in the kingdom forbid categorically all sorts of demonstrations, marches and sit-ins...as they contradict Islamic Sharia law and the values and traditions of Saudi society."
The statement also says security forces are authorized to use all measures to prevent any attempt to disrupt public order.
The measures come after Saudi minority Shi'ites have staged small protests in the country's oil-producing eastern province.
compiled from agency reports
Liveblog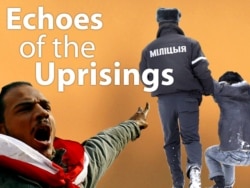 Tracking events and ideas convulsing the Arab world and with ripples around the globe, including RFE/RL's broadcast region.
Click here