As opposition organizers in Saudi Arabia surreptitiously used the Internet to call fellow citizens out for a "Day of Rage" on March 11, there was no way of knowing how many would heed the call.
That's because in Saudi Arabia, public protests are illegal. In fact, even thinking of protesting publicly is reprehensible, condemned both by the government and its close ally, the official clerical establishment.
Still, the protesters may come out, as several hundred did on March 4 in the capital, Riyadh, as well as in cities in the oil-rich east of the country. They shouted slogans against the monarchy and demanded the release of political prisoners.
Those protests, of course, were a faint shadow of the kinds of rallies that have brought hundreds of thousands of people to the streets in other Arab countries. But even so, they were enough to make the government bluntly warn afterward that it had authorized security forces to "use all measures" to prevent any future efforts to "disrupt public order."
Now, ahead of the rallies planned for March 11, the Saudi Interior Ministry has dispatched some 10,000 troops to the east of the country, where the grievances against the government run highest. It's in tacit recognition that if the protests occur in the east they will be fueled not just by the general frustration with official corruption that many ordinary Saudis feel, but by something still deeper. That is, a sectarian divide that many people in the eastern region say leaves them feeling like second-class citizens.
The divide is between Saudi Arabia's Sunni majority and its Shi'ite minority, which makes up some 10 to 15 percent of the country's total population and is heavily concentrated in Saudi Arabia's Eastern Province. The Shi'a are part of a centuries-old Arab Shi'ite community indigenous to Saudi Arabia's Gulf coastline and the island of Bahrain. But while they say they are as Arab and Saudi as the rest of their compatriots, the officially Sunni government tightly restricts their freedom of worship and -- the Shi'a charge -- their access to influential jobs and positions.
Jane Kinninmont, a Middle East analyst at Chatham House in London, says the economic inequalities which separate Saudi Arabia's rich elite from ordinary citizens are particularly glaring in the Eastern Province.
"In the Eastern Province the economic inequality is very visible because it is the area where the bulk of the oil resources are located. So around Dahran and Dammam, which are the centers of the oil industry, there is a large amount of wealth and there are a lot of very wealthy expatriates as well as very wealthy Saudis," Kinninmont said. "It is very noticeable if you are in poorer cities and towns in the Eastern Province that the oil wealth is not equally distributed."
Outsiders
Kinninmont says the Saudi establishment, whose official ideology is the purist Wahhabi form of Sunni Islam, regards Shi'a as heretics. Textbooks used in state-schools refer to Shi'ism accordingly and there are so many restrictions on building Shi'ite mosques that most Shi'a have to meet for prayer in public halls or homes instead.
At the same time, the Shi'a are widely suspected by the Saudi establishment of having loyalties to the Shi'ite orders of Iraq and Iran, a charge which the Saudi Shi'a, who have their own local clerics, reject.
Analysts say that while officially no employment discrimination exists against Shi'a, most Shi'a are limited to lower-level jobs, even in their oil-rich home province.
"They are indeed employed by the oil industry in various jobs, but none of them senior as far as we know at this time," Theodore Karasik of the Institute for Near East and Gulf Military Analysis in Dubai, says. "It is not an issue that is publicly discussed very much but they do have chances at blue collar jobs throughout the Eastern Province."
Anger over perceived discrimination has flared into protests in the Eastern Province many times over the past decades but is not usually widely reported. The Saudi Shi'a last rose up in mass civil disobedience in the locally termed "intifada" of 1979, but smaller protests are more common. On March 4, several hundred Shi'a marched peacefully in the three eastern cities to demand the release of a Shi'ite cleric arrested the week before for calling for more freedom of worship and for a constitutional monarch. The cleric, Tawfiq al-Amer, was reportedly released on March 6.
Since the "Days of Rage" began rolling over the Arab world early this year, Saudi King Abdullah has promised to shower new benefits upon ordinary Saudis who complain that the country's oil wealth is monopolized by the House of Saud and its minions. He has promised to spend $35 billion to offset high inflation, help young unemployed people, and support families to get affordable housing. He has also ordered a 15 percent salary increase for civil servants.
New Generation?
But while those new benefits may persuade some Saudis there is no need to protest, they may fall short of easing tensions in the Eastern Province.
"There are going to have to be specified programs for the Shi'ites of the Eastern Province," analyst Karasik says. "This package that has been announced is going to benefit more of the Sunni community as well as those working in Riyadh and other administrative centers in the provinces of Saudi Arabia."
The question now is to what extent the Shi'ite leadership in the Eastern Province has been galvanized by the protests elsewhere in the Arab world to launch a sustained movement of their own. Such a movement could not only test the Saudi monarchy's ability to cope with protests but also roil oil markets, whose greatest fear is that unrest might spread in the Gulf.
Kinninmont says that for now it is difficult to know how organized the Shi'ite opposition is. But there are signs that a new generation of leaders impatient for change may be coming forward.
"There have been a number of protests particularly in the [eastern] town of Qatif in the past few weeks, so it does appear that some kind of new opposition organization is emerging, probably with younger leaders," Kinninmont says. "I think the older leaders tend to be more cautious, they are very worried about coming under any suspicion of disloyalty and they have taken a very cautious and frankly polite approach to dealing with the government but they haven't managed to solve people's problems or address grievances that way. So I think we are seeing a rising generation who are fed up with that approach and want to try something different."
Just what that "something different" is may become clearer on March 11. The Saudi government is betting that flooding the Eastern Province with Interior Ministry troops will intimidate would-be protestors and it is a tactic which has worked before to keep protests scarce and small. But, as Kinninmont notes, whether it will still work in today's Arab world is anybody's guess.
"I think one thing this year has taught us is that there is room for surprises," she observes. "We can't anymore be complacent about people behaving in the same way as they have behaved in the past."
Liveblog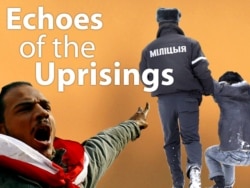 Tracking events and ideas convulsing the Arab world and with ripples around the globe, including RFE/RL's broadcast region.
Click here