PRAGUE -- On a list of things Saudi Arabia is popularly associated with in the public mind, literary tradition and a love of books is unlikely to figure high among them -- even if this is the land that, courtesy of the Prophet Muhammad, gave the world the Koran.
Imagine the perplexity, then, of bookworms at the Prague Book Fair on being greeted upon arrival by a vast Saudi stand, given pride of place at this year's event courtesy of the kingdom's status as special guest of honor.
The event was officially opened on May 12 by the Saudi higher education minister, Khalid al-Anqari, who was given the privilege of making the keynote speech at the opening ceremony.
It seemed a highly incongruous role for a nation more commonly linked in the popular imagination -- and by human rights groups -- with censorship and severe restrictions on free speech.
.
The distribution of all books, including Bibles, is tightly controlled. In some respects, the kingdom is even something of a censorship pioneer, leading the field among
Arab regimes that practice Internet censorship
, according to the OpenNet Initiative.
This book fair spectacle was no less jarring for taking place in the Czech Republic, a country whose writers, including the former president, Vaclav Havel, braved repression to criticize the limitations on expression imposed by the former communist regime.
Organizers of the fair -- which is held annually under the auspices of the Czech Culture Ministry -- dismissed suggestions that Saudi Arabia was an inappropriate guest of honor, a status accorded in response to an official request from Riyadh to the Czech authorities.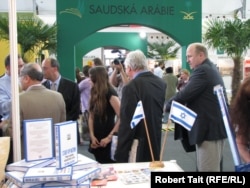 Curiously, the Israeli stall has been incongruously parked next to the Saudi Arabian exhibition.
Dana Kalinova, managing director of the event, argued that it would have been wrong for the Czech Republic -- having shaken off the shackles of communism in the 1989 "Velvet Revolution" -- to have knocked back the Saudi application.
"To be quite honest, 20 years ago the Czech Republic was facing a similar situation and atmosphere. Why close ourselves now?" she said. "We are a democratic country and we can open ourselves for dialogue and if somebody like this country, with this image applies by itself to open to the western part of Europe, why not? Who can say no? And I think I see a big challenge in this. It was a challenge for us."
An Inappropriate Choice
Kalinova, saying she objected to RFE/RL's line of questioning, then asked if it was possible to see this article "for approval" before publication. Her request was denied.
Jo Glanville, editor of the Index On Censorship -- a U.K.-based organization that monitors restrictions on free expression worldwide -- says Saudi Arabia is an inappropriate choice probably dictated by the organizers' need for money.
"I have a real concern that Saudi has been invited to be guest of honor at the Prague Book Fair this year," Glanville says. "It actually seems to have become accepted in these major European book fairs that you can have an event that's essentially about the written word and therefore, fundamentally, about freedom of expression. It has become acceptable to have regimes which go out of their way to persecute, imprison, or harass or anyone who truly wants to practice freedom of expression."
Glanville says the Saudi invitation was part of a trend that had in recent years seen both Russia and China given guest-of-honor status at the London Book Fair. China has also been the honored guest at the prestigious Frankfurt Book Fair. The Saudis themselves were guest of honor at last year's Tokyo Book Fair.
Anqari, circulating at an exhibition area that included small-scale models of Mecca and Medina, said allegations of prohibitions on free expression were part of an international misconception about his country that the display was intended in part to counter.
"[Our aim is to] first interact with other intellectuals who attend this occasion and the second is to give the actual picture of Saudi society in all aspects -- cultural, educational, scientific and other aspects. So you can find some elements of all these aspects presented in this part of the exhibition," he said.
Nothing But Dry Tomes
The case was put even more bullishly by Abdul Aziz bin Salama, the country's deputy minister for culture and information, who said media freedom in Saudi Arabia was on the increase and served as an example to other countries.
"Believe me, the Saudi press has gained in the last 20 years a big margin of freedom of expression," bin Salama said. "Many people in the government are completely dissatisfied with this -- ministers who want their performance not to be criticized. Really, the Saudi press has gained so much to the point that others make [sic] very good attention at what they are doing. This has helped in making many cases of mismanagement, etc., known. It was behind crystallizing the awareness, the necessity of taking measures about, for example, human rights."
Yet a quick perusal of the books on display revealed an emphasis on a dry mixture of academic-leaning tomes on subjects including Islam, archaeology, and engineering -- as opposed to the presence of explicitly provocative or controversial topics. There were also several books on the Saudi role in fighting terrorism. Among the new publications listed on the
fair's website
are a play called "The Huge Prison" and a book intriguingly titled "Women Are Flowers."
In a surreal twist, neighboring the Saudi exhibition was a stall run by Israel, a state that Saudi Arabia's ruling monarchy refuses to recognize.
Asked for his views on rubbing shoulders with a display put on by a government that -- officially, at least -- treats his country as a pariah, Israel's ambassador to Prague, Yaakov Levy, was surprisingly upbeat, saying he hoped it would help to foster a warming of relations.
"I'm very pleased to be in proximity to Saudi Arabia, even though we have no diplomatic ties and so far, no contact," Levy said. "But I would hope that in the long term, non-political -- perhaps literary or in other domains, perhaps economic or high-tech -- cooperation could be sought. And maybe this proximity is a good omen for the future even though there are no contacts today, which is of course not