BAKU – Several hundred opposition protesters held a rally in downtown Baku for a second day today, RFE/RL's Azerbaijani Service reports.
The protesters chanted slogans against President Ilham Aliyev, calling for his resignation. They also demanded the authorities release youth activists arrested in recent days.
The
police eventually dispersed the rally and arrested dozens
of protesters.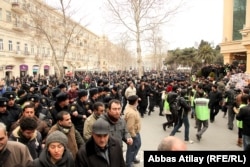 Shot of today's opposition rally in downtown Baku

Musavat Movement
The rally was organized by the opposition Musavat movement, led by Isa Qambar. He said antigovernment groups would continue to stage demonstrations in the future.
Several Musavat Party activists were forced into police vehicles, but some of them were later let go.
Musavat says more than 40 party members and officials were detained by police during today's rally.
Qambar told RFE/RL's Azerbaijani Service that the rally was the "most powerful act of protest [in Azerbaijan] in recent years."
He accused the police of showing "extreme brutality" and using violence against protesters: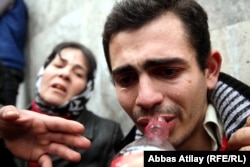 Protesters today in Baku
The authorities have refused to give protest organizers permits to rally downtown, saying they must conduct any protests on the outskirts of the city instead.
'Great People's Day'
The demonstration in Baku follows the March 11 rally organized by Azerbaijani youth activists via Facebook. Inspired by popular uprisings in Egypt, Tunisia, and other Arab states, Azerbaijani youth had campaigned to designate the date a "Great People's Day," and called on people to stage protests against Aliyev's regime.
Dozens of young people staged rallies in different locations in Baku. According to the country's Interior Ministry, 43 young activists were detained on March 11. The ministry said 23 of them were given warnings and released.
Authorities had arrested several organizers of the Great People's Day campaign ahead of the rallies.
The arrests have sparked condemnations by the European Union, the U.S. Embassy in Baku, Amnesty International, and Human Rights Watch (HRW.)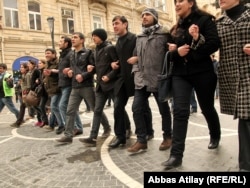 Protest on "Great People's Day" on March 11
HRW issued a statement today calling on the Azerbaijani authorities to release the young activists.
"Azerbaijani authorities should immediately release all the activists who were detained in response to the planned protests in Baku," said Rachel Denber, director of the Europe and Central Asia Division at HRW. "Rounding people up this way is wrong and counterproductive."

written by Farangis Najibullah and Arife Kazimova with RFE/RL's Azerbaijani Service reporting