The European Union has urged Serbia and Kosovo to defuse tensions after a series of incidents on their common border, and to quickly resume negotiations on the normalization of ties.

A statement by EU foreign-policy chief Catherine Ashton said both sides should realize "what is at stake for them."

The statement comes after the United Nations Security Council held an emergency session to discuss rising ethnic tensions in Kosovo, following an attack late on July 27 on a border post by an ethnic Serbian mob that left one person dead

Serbian Foreign Minister Vuk Jeremic told reporters outside the closed-door meeting at the UN that the situation in the Serbian enclave of northern Kosovo remains tense.

"It's definitely a powder keg given that there are roadblocks and there is a great deal of tension throughout the territory," he said. "We need to act swiftly as the international community to ensure there is no more violence."

Following Jeremic's meeting with UN Secretary-General Ban Ki-moon, Ban's office issued a statement saying the UN head had "expressed his concern over the unexpected action that led to the deterioration of the situation in northern Kosovo...and welcomed Serbian President Boris Tadic's call for calm and the message that his country remains committed to resolving existing problems between Belgrade and Pristina through dialogue."

Kosovo has a 90 percent ethnic Albanian majority.

Its border with Serbia was calmer on July 28 after two days of violence. NATO peacekeepers took control of two customs posts in the area after the attack on July 27 in which one ethnic Albanian policeman was killed and a border crossing was set on fire by hard-line Serbian nationalists.

Gunfire was heard during the altercation, and NATO KFOR peacekeepers deployed after the violence began say shots also were fired at them.
Calls For Calm
Speaking in Belgrade, Serbian government spokesman Milivoje Mihajlovic tried to de-escalate the situation.
"The Serbian government urges all the citizens on Kosovo and Metohija to stay calm, to restrain from violence, and not to respond to provocations," he said. "The Serbian government's position is that all questions and open issues should be solved only through dialogue. Violence from any side is not the way to solve the problem."
The attack was in response to an operation launched by Kosovo's special police on July 25 to seize the border posts and enforce a retaliatory ban on imports of Serbian goods. Serbia, which rejects Kosovo's 2008 secession, earlier imposed a similar ban on goods from Kosovo.
Kosovo's Prime Minister Hashim Thaci accused the Serbian government in Belgrade of orchestrating the violence.
"An organized criminal group led by the leaders of Serbian parallel structures and motivated by the Belgrade authorities has first attacked Border Post 1 and then Border Post 31" in Brnjak, Thaci said.
"These violent acts were ordered, coordinated, and led by the highest political structures of Serbia."
But Serbia's minister for Kosovo, Goran Bogdanovic, also condemned the attack, calling it "an act of extremists and criminal groups." Speaking during a visit late on July 27 to the Jarinje post, Bogdanovic said the attackers were not local Serbs from the area near the checkpoint.
"What has happened here tonight deserves condemnation. All efforts we have engaged in the past 48 hours were in vain," Bogdanovic said. "This is an act of extremists and criminal groups. This is not an act of the people of the Leposavic municipality or the people of Kosovo and Metohija.
"This is not contributing to the peace and stability in Kosovo and Metohija. We will, however, continue to struggle for our rights, and we will do everything we can to restore law and order here."
'Undermining Peace Process'
Chief Serbian negotiator Borko Stefanovic said the fresh violence undermines efforts to negotiate a peaceful resolution to growing tensions between ethnic Serbs and ethnic Albanians in northern Kosovo.
"This violent act, an act committed by criminals and extremists, represents a clear attempt to undermine the process we are pursuing and the attempts to resolve all the issues in a peaceful manner," Stefanovic said.
"This greatly aggravates the position of Serbs in the north of Kosovo and Metohija and is not contributing to the resolution of the problems that brought us here in the past couple of days."
The violence comes after a special police force was deployed by Pristina on July 25 in an attempt to seize control of border posts in Kosovo's Serb-controlled north, prompting what Belgrade describes as a dangerous escalation of tensions.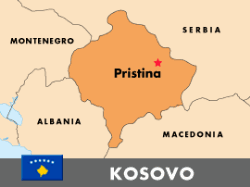 One ethnic Albanian police officer was killed by a hand grenade in the initial altercations. -- and the Kosovar special police only managed to seize one checkpoint before a group of ethnic Serbs blocked roads to prevent them from reaching two other checkpoints on the border with Serbia.
The government in Pristina has never controlled those northern border crossings since it declared Kosovo's independence from Serbia three years ago.
Stalemate In Northern Kosovo
Belgrade lost control of Kosovo in 1999 when NATO waged a bombing campaign to halt killings of ethnic Albanians in a counterinsurgency campaign.
In fact, ethnic tensions have remained high in the north since NATO deployments in June 1999 and the de facto partition of northern Kosovo through the city of Mitrovica.
There are some 60,000 Kosovo Serbs who still live in the north. Most do not recognize Kosovo's independence from Serbia and still consider Belgrade their capital.
Kosovo's government in Pristina said the move by its special police earlier this week was an attempt to stop Serbian goods from entering the territory after a similar import ban announced by Belgrade.
Maja Kocijancic, a spokeswoman for EU foreign-policy chief Catherine Ashton, told RFE/RL that Kosovo's police did not consult the EU or other international officials before trying to take control of the border crossings.
The EU called on both Kosovo and Serbia to refrain from violence and make progress on bilateral talks. In a joint statement, British Foreign Secretary William Hague and German Foreign Minister Guido Westerwelle said, "We are seriously concerned about the recent outbreak of violence at the border between Serbia and Kosovo. We have said in the past and we reiterate now that the way neighborhood issues are dealt with is a key benchmark for an EU perspective. Tangible progress in all these areas will play a role in the EU's discussions in the autumn."
In Pristina, the Kosovo Parliament adopted a resolution in favor of the right of the Kosovo institutions "to exercise full control on Kosovo's territory."
The resolution also supports trade reciprocity measures with Serbia in all custom checkpoints and calls on the international community to help authorities to safeguard Kosovo's territorial integrity.
written by Ron Synovitz, with reporting by RFE/RL Kosovo unit's Arbana Vidishiqi in Pristina and news agencies