Serbian Cartoonist Takes On Ukraine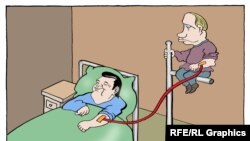 One of the most prominent cartoonists in Serbia,
Predrag Koraksic Corax
, works closely with
RFE/RL's Balkan Service
. Once a week the service publishes his work without comment. As part of his weekly offering, he has focused on the situation in Ukraine. No translation is required.
About This Blog
Written by RFE/RL editors and correspondents, Transmission serves up news, comment, and the odd silly dictator story. While our primary concern is with foreign policy, Transmission is also a place for the ideas -- some serious, some irreverent -- that bubble up from our bureaus. The name recognizes RFE/RL's role as a surrogate broadcaster to places without free media. You can write us at transmission+rferl.org