Great Terror: Russian Government's Silence Means Stalin's Victims Honored Only With A #Hashtag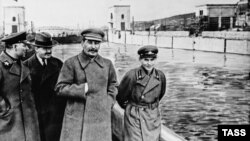 On July 30, the Russian government held lavish celebrations to mark the annual Navy Day holiday. But there were no official commemorations to mark the 80th anniversary of the July 30, 1937, Soviet government order that formally launched dictator Josef Stalin's Great Terror that left around 700,000 people dead and millions displaced, orphaned, or crippled.

The silence of the government and the Russian Orthodox Church was symptomatic of Russian society's ambiguous interpretation of the Great Terror and the other crimes committed by the Soviet government against itself and its own people. According to a recent public opinion poll by the All-Russia Center for the Study of Public Opinion (VTsIOM), 43 percent of Russians believe the purges were necessary "to maintain order in the country." At the same time, only 16 percent said that the verdicts of the Stalinist courts and tribunals were just. Forty-nine percent said Stalin's crimes cannot be justified by any arguments.
The terror kicked off 80 years ago when Soviet secret-police head Nikolai Yezhov signed Order No. 00447, which stated:
"The state security organs stand before the task of mercilessly smashing this entire band of anti-Soviet elements and defending the laboring Soviet people from their counterrevolutionary plots and, finally, once and for all, ending their insidious work against the foundations of the Soviet state."
In February 1940, Yezhov himself became a victim of the terror when he was executed in a Moscow basement.
In the face of official silence -- in an interview released in June, President Vladimir Putin criticized the "excessive demonization of Stalin" -- ordinary Russians have tried to keep the memory of Stalin's victims alive. Journalist and activist Sergei Parkhomenko has for the last two years coordinated the Last Address project, which puts memorial plaques on the buildings were victims lived, often over the objections of local residents and officials. In just under two years, the project has erected about 600 plaques.

For the July 30 anniversary, a social-media hashtag, #помнимбольшойтеррор (We remember the Great Terror), was created and people were encouraged to post information about their repressed relatives. The testimonials illustrate whole families ripped apart.

"Pyotr Burakov was my great-grandfather," Marina Makarevich wrote on Facebook. "He was repressed for the first time in 1928 as a kulak for owning two horses. He was sent from Stavropol to the northern Urals with his six children. He returned in 1936, having lost his wife and two children during his exile. His wife was forced to work at a tuberculous clinic for [secret police] officers -- she became infected and died in 1930.
"The second time my great-grandfather was arrested was in 1939 for his [Baptist] religious beliefs. He was released in 1943 together with other religious prisoners at the request of the Soviet Union's allies in World War II. He was arrested again in 1947. He was tortured and forced to renounce his faith. He died from the torture in 1948 in a prison in Nalchik. I don't know where he is buried. Neither he nor his wife nor his children are on any of the lists of repressed people. Many victims remain unknown."

Yelena Grigoryeva described the decimation of her family.

"On my mother's side, two large peasant families were exiled and imprisoned -- the great-great-grandfathers from both my grandmother's and grandfather's families," she wrote. "On my father's side, three members of my grandmother's family were shot or died as a result of their time in labor camps. The rest were forced to abandon their homes and hide, including by changing their name. As far as my grandfather's family, we know nothing about them, which in my opinion could indicate that they all died prematurely.

"In short, everyone in three generations of my family was touched by the Great Terror of the 1930s.... That is why I cannot sit by calmly while they erect memorials to Stalin and hang his portrait in the subway. It was a huge mistake that there has never been an open trial about the crimes of Stalin and his supporters like there was regarding the crimes of [German dictator Adolf] Hitler."
WATCH: In northwestern Russia, residents are frequently reminded that their village was once home to one of Stalin's notorious gulags. Vadim Kondakov of Current Time TV, the Russian-language network run by RFE/RL in cooperation with VOA, spoke with a man who is trying to bring dignity to the victim's remains.
One of the organizers of the hashtag, documentary filmmaker Valery Balayan, told RFE/RL's Russian Service that the action was prompted by the government's apparent desire to see the anniversary pass unnoticed.

"In our history textbooks, both Soviet and Russian, the real scope of the [Great] Terror is not conveyed," Balayan said, adding that he personally learned about Stalin's crimes from the work of Western historians such as Robert Conquest. "And this was really a huge terrorist attack on their own population. I think it was unprecedented [at the time]. Intellectuals were killed, as well as the elite of the peasantry and so on. I don't think Russia has recovered to this day…. The fact that the government wants to be silent and forget about this date is shameful.

"The descendants of the wardens don't want people to remember and to know," Balayan said. "Someone once said that half of Russia was sitting in the camps and the other half guarded them. Perhaps the descendants of those prison guards don't want to admit that. But the people who were affected will never forget."
Written by Robert Coalson based on reporting by RFE/RL's Russian Service correspondent Yaroslav Shimov