Western Powers Propose Syria Ultimatum, Senior Diplomat Defects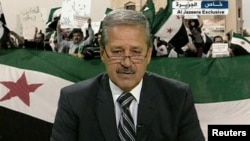 Western powers have drawn up a new draft United Nations Security Council resolution that would give Syrian President Bashar al-Assad 10 days to start implementing an internationally backed peace plan or face sanctions.

Reports say the text backed by Britain, France, Germany, and the United States threatens nonmilitary sanctions unless the Syrian regime starts implementing UN-Arab League envoy Kofi Annan's cease-fire plan.

Russia has rejected the Western resolution, with Deputy Foreign Minister Gennady Gatilov telling the Interfax news agency that Russia would veto the "unacceptable" proposal in the Security Council if it came to a vote.

Russia and China, which hold veto powers on the Security Council, have refused to back previous efforts to impose sanctions.

In another development, Syria's ambassador to Iraq has announced he has left the government and joined the uprising against Assad's regime.

In a video statement posted on Facebook, Nawaf al-Fares declared that he had joined the ranks of what he called the "people's revolution in Syria."

"I announce my resignation as Syria's ambassador to Iraq," he said. "I also announce my withdrawal from the Baath Party and I call on all party members to do the same because the regime has transformed itself into a tool to oppress the people and their aspirations to freedom and dignity."

Syria's Foreign Ministry responded by saying Fares should be punished. The Syrian statement said Fares had been "relieved of his duties" and should face "legal and disciplinary accountability."

Iraqi Foreign Minister Hoshyar Zebari said on Al-Iraqiya television that Fares "left the country and is now in Qatar."

Appointed to the Baghdad post four years ago, Fares was the first Syrian ambassador to Iraq in 26 years.

Earlier this week at the UN, Russia circulated a rival draft resolution to the Security Council, proposing a keep 300 UN military observers in Syria for another three months after their current mandate expires on July 20.

The measure does not propose any sanctions on the Syrian regime, and Russia has repeatedly said it will not support any foreign intervention in the crisis.

Russia has for years been a major weapons supplier to the Syrian regime and operates a naval base on Syria's Mediterranean coast -- the only Russian military base outside the former Soviet Union.

However, speaking to journalists on July 11, the U.S. ambassador to the UN, Susan Rice, maintained that tough action is needed to compel the regime to start implementing both the Annan peace plan and another plan, agreed on by world powers on June 30 in Geneva, which calls for the formation of a transitional unity government involving members of the opposition.

"Without this council taking concrete measures to increase the pressure for the Annan and Geneva plans to be implemented by the government, its not plausible to assume that [the UN monitoring mission] will be any more able to fulfill its mandate in the future than it is now," she said.

Earlier, Annan told the Security Council that both Iran and Iraq supported a plan for a Syrian-led political transition in Damascus.

While Russia and China have called for Iran -- the Syrian regime's main Middle Eastern ally -- to be included in the process, U.S. officials have insisted that there is no sign that Tehran was ready to act constructively.

"Iran is definitely part of the problem in Syria," Ambassador Rice said.


With reporting by Reuters, AFP, and AP