Syrian Forces Reportedly Kill 15 In Attacks On Protesters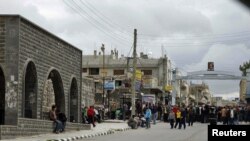 Residents of the southern Syrian city of Daraa and human rights activists say that security forces have killed at least 15 people in the deadliest clashes since protests against the regime of President Bashar al-Assad began a week ago.
Of the 15, six people were killed during a raid on a local mosque that has been the focal point of antigovernment protests.
Another nine people were later reported killed in and around the city center.
The attack reportedly took place in and around the Al-Omari Mosque, where protesters had been camped out to demand greater political freedoms, and end to emergency law, and a crackdown on corruption.
Shortly before the raid, electricity and telephone lines were cut off.
Witnesses said the assault continued, with forces reportedly opening fire on protesters from neighboring villages who were heading into Daraa.

Killings Committed By 'Armed Gang'
Syrian authorities blamed the day's initial episodes of violence on an "armed gang" who allegedly stockpiled the Daraa mosque with weapons. They said security forces were able to kill and wound several of the attackers.
Syria's state-run television reported that four people were killed in the shoot-out, including a paramedic, a driver, a security force member, and a prominent doctor, Ali Ghassab al-Mahamid, who rushed to the scene to rescue victims of the attack.
It showed footage of weapons and stashes of money allegedly seized from inside the mosque.
The incident was the bloodiest yet in a week of protests against President Bashar al-Assad and his ruling Baath Party, which has enforced emergency laws and banned opposition since 1963.
World leaders have condemned the violence, including UN Secretary-General Ban Ki-moon, who today called for a transparent investigation into the killings. In a statement, he said, "Those responsible must be held accountable."
Washington also decried the violence against protesters.
"The United States is alarmed by the violence overnight in Daraa by security forces against civilians," State Department spokesman Mark Toner said. "We're deeply concerned by the Syrian government's use of violence, intimidation, and arbitrary arrests to hinder the ability of its people to freely exercise their universal rights."
The unrest in Syria has spread to the nearby village of Nawa, where hundreds of people marched on March 22 to demand reforms.

Biggest Challenge Yet
Although the protests in Syria remain smaller than other antigovernment revolts sweeping the Arab world, they nonetheless pose the biggest challenge to Assad's rule since he succeeded his father, Hafez al-Assad, in 2000.
Authorities have pledged to "continue the path of reform and modernization" and have fired the Daraa province's governor, one of the demonstrators' demands.
But the measures failed to quell popular anger fuelled by the killing of several civilians last week.
Security forces last week opened fire on protesters, killing four people. They later shot dead a mourner attending the funeral of one of the victims. An 11-year-old boy also died on March 21 after inhaling tear gas thrown at demonstrators.

compiled from agency reports