DUSHANBE -- A libel lawsuit by a regional Interior Ministry official against the independent weekly "Asia Plus" has been postponed by a Dushanbe court for the third time, RFE/RL's Tajik Service reports.
On December 21, 2010, "Asia Plus" published an article accusing Interior Ministry officials -- including officers of the directorate against organized crimes in Sughd Province -- of torturing suspected criminals.
General Anvar Taghoymurodov, the head of that directorate, denies any wrongdoing on the part of the Interior Ministry and is demanding 1 million somonis (about $227,000) in damages from the newspaper.
Taghoymurodov asked the judges on February 24 to add the author of the article, Ramziya Mirzobekova, to the list of defendants along with "Asia Plus." Taghoymurodov also requested that the validity of a document signed by the owner of "Asia Plus," Umed Babakhanov, empowering "Asia Plus" chief editor Marat Mamadshoev to defend the paper's reputation, be checked.
The judges asked for additional time to consider the requests by Taghoymurodov and adjourned the hearing.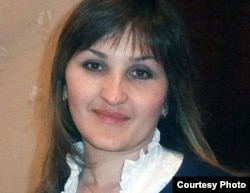 Journalist Ramziya Mirzobekova
On February 14, Nusratullo Asadullo, the presiding judge at Dushanbe's Firdawsi district court, said Mamadshoev, who represented "Asia Plus," failed to produce any official documentation to prove he is empowered to take legal action on behalf of the weekly.
Taghoymurodov's lawyer, Jamshed Ghiyosos, said "Asia Plus" owner Umed Babakhanov should appear in court himself to defend the newspaper. Babakhanov is currently living in the United States, where his children are studying.
Mamadshoev filed a counterclaim against Taghoymurodov on February 14 for 15,000 somonis in damages. He told RFE/RL that Taghoymurodov's suit could damage the weekly's reputation.
Tajik journalist Qironbek Sharifzoda told RFE/RL on February 24 that "it seems to me that Taghoymurodov does not know how to punish 'Asia Plus,' and his legal team is adding requests to win time and keep the weekly under permanent pressure."
Mirzobekova told RFE/RL that she has written and recorded statements by suspects who were tortured. She said she is not afraid to answer all accusations personally together with "Asia Plus."
Mirzobekova joined "Asia Plus" in 2002. This is the fourth time one of her articles has triggered a court case. Hearings into an article she published in January 2010 about official pressure being put on the courts began several months ago and elicited statements in the paper's defense by Western embassies and international organizations.
Tajik experts say this is the first time a court is hearing a case related to torture and violence against suspects. "Asia Plus" said it has evidence to substantiate its charges. But experts said no court has ever given credence to such accusations.
Nargis Zokirova, an expert from the Human Rights Organization of Tajikistan, said it is difficult to speak about torture because it is almost impossible to inspect detention centers and prisons. She said the authorities do not permit domestic or international human rights organizations to visit suspects in detention centers.
Tajik experts say that all previous proven cases of torture were reclassified as abuse of power, and suspected torturers were tried for abuse of power, not for torture.
Read more in Tajik
here