President Emomali Rahmon was on a regional tour, and by all appearances it was cause for celebration in towns across Tajikistan.
Streets were hastily cleaned and adorned with billboards featuring giant portraits of the president. Blooming flowers were planted alongside busy roads.
Upon Rahmon's arrival, he was welcomed in each town he visited this month by young children -- girls clad in traditional dress and boys parading in starched-white shirts. They recited poetry comparing their leader to a revered 10th-century Tajik king, as well as legendary heroes.
A select few -- hand-picked and invited to meet Rahmon -- dutifully commended the "esteemed president's" services to the nation.
Scratch the surface, however, and people have begun to complain that what the president sees during his tours of the regions is no more than a mirage, and has nothing to do with the realities of life in a poverty-stricken nation engulfed in unemployment and hopelessness.
Those who sought to discuss everyday issues with the president, however, were fended off.
Increasingly Inaccessible
"A group of intellectuals had been for months waiting to meet the president and they had concrete questions and problems to discuss with him," says Shohin Ravshan, a journalist in the northwestern city of Panjakent. "But they were not allowed anywhere near Emomali Rahmon when he arrived in the town."
"Regional officials were afraid these people would criticize them in front of the president or ask serious questions and demand answers.
"Recently, provincial Governor Qohir Rasulzoda visited Panjakent and this group challenged him with tough questions. Fearing the same scenario, they prevented Panjakent intellectuals from meeting Rahmon."
Some accuse regional leaders of creating a false illusion of prosperity that prevents the president from getting an accurate picture of people's lives.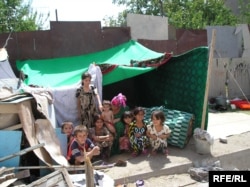 On his trips around the country, the Tajik president is often shielded from seeing the true conditions in which many people live.
While the president received the red-carpet treatment as he participated in ribbon-cutting ceremonies for new schools, hotels, markets, and cultural centers, regional officials made sure that access roads were blocked and cordoned off.
One could put this down to the need for greater security, but the efforts to keep the president completely inaccessible go beyond ordinary security arrangements.
In the southern town of Qurgon-Teppa, a girl called Mutabar desperately pleaded with city officials to let her speak to the president during his recent visit.
Mutabar, the teenage daughter of impoverished villagers in the southern Vakhsh district, claims she was raped by a high-ranking official two years ago. But police and court dismissed her complaint. Mutabar, who declined to give her full name, said she wanted to talk to the president because "no one else listens to me."
She was sent away by police officers guarding the area, where the president was busy opening a new market and listening to flattering speeches followed by poetry readings.
Rahmon also took part in opening ceremonies for a string of other buildings and businesses, including a press center in Khujand, a five-star hotel, a nursery school and library in Qurgon-Teppa, and the Palace of Culture in the southern district of Bokhtar.
Behind The Facade
It is traditional for the president to participate in ribbon-cutting ceremonies while on regional tours. But locals half-jokingly note that many of the buildings or businesses are far from completion.
During a trip to the northern province of Sughd two years ago, for example, a cement factory was officially opened by Rahmon, but today it stands unfinished and unused.
Referring to the president's most recent trip, local journalists say, only the facades and a few rooms of Khujand's press center and Qurgon-Teppa's nursery schools were completed.
It is what the president doesn't see that has ordinary citizens worried. The impoverished nation of some 7 million people is plagued by widespread poverty, corruption, and unemployment that has forced nearly a million Tajiks to become migrant laborers in Russia.
Free speech and media are stifled by authorities intolerant of almost any criticism of government policies. Outspoken journalists have been sent to prison, prompting others to censor themselves.
And Rahmon -- in power for nearly two decades -- is virtually off-limits when is comes to public criticism. During the president's latest trip to Khujand, journalists were invited to his meetings but were not given a chance to ask the president any questions.
"In the past, we could at least shout a question and the president would answer," says a local journalist in Khujand, who didn't want to give his name. "This time everything took place so swiftly under the watchful eyes of local officials."
Who's To Blame?
Despite the obstacles, a number of Tajik intellectuals have called on officials and state-run media not to prevent the president from seeing the scope of real-life problems among his people.
Mumin Qanoat, a prominent Tajik poet, warned against praising the president too much.
Even during routine reports and conversations, Rahmon is referred to as "his excellency" and as "esteemed president" by officials and state media. The president has in the past sought to forbid officials from bestowing him with flattering titles or pasting his portraits on city billboards.
"By sucking up to the president, those close to him are causing the president to become unaware of what is really going on in Tajikistan and the world," Qanoat says.
Suhrob Sharifov, head of the presidential Strategic Research Center in Dushanbe, argues that sycophancy toward the president and trying to "please him" has become culturally ingrained in the country's elite.
"It is the political elite's way of showing their respect to the President," he says. "During his trips to regions they try to keep him happy, as a sign of respect."
Not everyone, however, is convinced that only officials are to blame. "If a person doesn't like people sucking up to him, it's not difficult to stop them," says Mukhtor Boqizoda, an independent journalist. "It seems sycophants have melted his heart."
RFE/RL's Tajik Service contributed to this report