A growing number of articles and commentaries on Central Asian blogs and media suggest it's only a matter of time before Arab-style popular uprisings sweep through the region.
Some see Tajikistan as a possible candidate for such protests. Despite official denials that anything is amiss, steps taken by authorities in recent weeks to placate public sentiment hint at some nervousness in Dushanbe.
Tajiks just got what appears to have been their first taste of a flash mob, a protest initiated by Internet users who staged a small demonstration after exchanging comments through Facebook.
Some 30 people gathered in front of the state energy agency in the capital, Dushanbe, on April 8, protesting a severe electricity shortage that has hit the country hard in recent weeks. They also held up signs condemning nepotism and corruption in the government.
The demonstrators, mostly young men in their 20s, echoed the feelings of many Tajiks. The recent strict rationing of electricity, which leaves some households with as little as one hour per day of power, has added to a host of other miseries -- ranging from widespread unemployment to a lack of civil liberties.
Official statistics show poverty levels at around 50 percent nationwide.
Local independent media were swift to warn the country's authorities against ignoring the people's plight, and reminded them of the protests that have swept North Africa and the Middle East, unseating the Tunisian and Egyptian presidents.
"Authorities must pay more attention to the problem of ordinary people before it is too late, otherwise [issues like the electricity shortage] could become the last straw," wrote the "Ozodagon" weekly.
Google Generation
Rajab Mirzo, an independent Tajik journalist, says that in the age of the Internet and social networking, it will become increasingly hard for authoritarian leaders in Central Asia to get in the way of people coming together and sharing ideas.
"Young people -- the Google generation -- will keep demanding changes, improvements, and opportunities," Mirzo says. "Facebook, Twitter, and similar social networks enable them to get in touch, to exchange and spread information."
The triggers that apparently prompted young Arabs to take to the streets arguably exist aplenty in Central Asia. The resource-rich, predominantly Muslim region is known for its long-serving presidents, a lack of democratic reforms, corruption, and poverty.
The region already has a record of popular revolts in Kyrgyzstan, where two post-Soviet presidents were ousted by violent street demonstrations.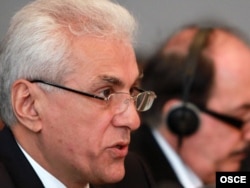 Tajik Foreign Minister Hamrohkhon Zarifi: "Conditions that would lead to similar events do not exist in Central Asia."
Officials in Tajikistan say they are confident that no revolts will happen in their country anytime soon.
"Conditions that would lead to similar events currently do not exist in Central Asia," Tajik Foreign Minister Hamrohkhon Zarifi told reporters at a press conference last week.
But as Mirzo points out: "Libyan leader Muammar Qaddafi said that, too, and just look at events happening there."
"What is happening in the Middle East started very quickly," Mirzo says. "No one could predict it. After events in Tunis, Qaddafi or other leaders couldn't see them spreading to their countries too."
Azimjon, a 25-year-old Tajik blogger, says social-networking sites like MoiMir, VKontakte, and Facebook are becoming increasingly popular among Tajiks.
"Most of the young people joining these sites simply seek to interact, make new friends, and post photos," the blogger says. "But there are also people who discuss social issues and start debates."
The most recent debate among Tajik Internet users was over the government's controversial decision to hand over 1,000 square kilometers of land to China to settle a long-running territorial dispute. Hundreds of Tajiks used social-networking sites to condemn the decision.
Frosty relations between the Tajik and Uzbek governments and their constant arguments over energy issues and transit routes are other popular topics among Tajik Internet users.
Government Concessions
Tajik authorities recently produced a package of changes, reforms, and amnesties that local independent media characterize as a government attempt to assuage critics.
Two jailed former opposition commanders -- Fathullo Khairiddinov, who is known as Eshoni Daroz, and Nazar Yormuhammadov -- were released from prison last month, cutting short their jail terms by several years.
Tajik courts have also begun to review the cases of dozens of opposition supporters arrested in the aftermath of a security operation in the eastern Tavildara district in 2009.
Tavildara is a one-time stronghold of Islamic opposition. The security operation and subsequent arrests had prompted outrage in the area. Several relatives of Mirzo Ziyoev, the slain opposition commander and ex-minister of emergency situations, were among those arrested.
Abdusamad Ziyoev and Mahsiddin Muhiddinov -- the ex-minister's brother and neighbor, respectively -- were found guilty of seeking to overthrow the government. Both were set free last month.
Mirzo Ziyoev's two sons had their sentences reduced by half.
President Emomali Rahmon has also abolished a law on "establishing [criminal] responsibility for destabilizing the social and political situation," which was adopted shortly after Tajikistan experienced its first antigovernment street protests in 1990.
The law was aimed at curbing opposition rallies, and stipulated criminal responsibility for organizers of public demonstrations.
Rahmon's oldest son, Rustam, widely seen as an heir-apparent, left the ruling People's Democratic Party, his membership of the party's central committee, and his seat in Dushanbe city council to take up a career in the lower-profile Customs Service.
'Listen To People'
Can such changes satisfy critics -- or ward off any risk of popular protests?
Zafar Sufi, an independent Tajik journalist, says people want concrete steps to address their concrete problems -- such as creating jobs with proper wages, fighting corruption and nepotism, and not restricting free speech.
"We don't have any major factories functioning here," Sufi says. "All Soviet-era factories are closed down apart from the aluminum plant."
He adds: "We used to have a huge textile factory in Dushanbe. We don't even produce a pair of socks today, and [instead] import them from China and Uzbekistan."
Rajabi Mirzo says he thinks free speech, transparency, and political openness are key to the government's ability to sustain public popularity.
"The government's tactic of cracking down on the media, free speech, and political opponents will backfire," Rajab says. "By silencing the media, the authorities are losing touch with the realities on the ground -- they don't know what is going on people's minds," he says. "The country's leaders shouldn't wait until they hear gunfire behind their windows. They must listen to the people today."
RFE/RL's Tajik Service correspondent Mirzo Salimov contributed to this report