WATCH: Artist Alia Sabirova uses Tatar poems and songs to promote knowledge of the culture among young people in Kazan, the capital of the Russian Republic of Tatarstan.
By Bike Timerova
KAZAN, Russia -- By day, Alia Sabirova wraps her arm around her 3-year-old daughter Sufia and shares a good book.
By night, she's in the spotlight, belting out Latin-fusion-influenced songs to throngs of dancing teens in a Kazan nightclub. Her eyes shine as she sings and she sways to the rhythms of her native Tatar language.
The 35-year-old Sabirova is thoughtful and soft-spoken. But she harbors an artist's passion and devotion to the timeless culture of Tatarstan -- and a determination that it remains alive and growing despite the pressures of global influences from Russia, Asia, and the West.
Sabirova's struggle is both a public and a personal one. She is a journalist, blogger, artist, and cultural activist who champions Tatar culture and expands it. And she is a mother of three children, trying to infuse them with her passion while realizing that they live in Russia and must make their way in a country where they are a minority.
Tatar poet Gabdulla Tuqay (1886-1913) is considered to be the father of the modern Tatar language. His birthday, April 26, has become Tatar Language Day.
Together with her husband, a graphic designer, Sabirova is a leading figure with the NGO Yzebez (For Ourselves), which describes itself unabashedly as a "creative collective" and "talking shop for like-minded people" devoted to "promoting new forms of Tatar culture among the young." The group is decidedly nonpolitical -- more likely to call youths to a poetry slam than a hunger strike.
Sabirova and her friends at Yzebez are now busy with preparations for a gala concert and festival on April 26, the birthday of
Gabdulla Tuqay
,
an early 20th-century poet, critic and publisher who is considered to be the father of the modern Tatar literary language.
That date has become Tatar Language Day, and Tuqay's classic poem "Oh, My Mother Tongue" is the republic's unofficial anthem.
Sabirova, though, describes herself as a "realist," not seeking to impose the culture and language on anyone, but to make them vivid, engaging, and modern through force of example and by creating opportunities for people to explore the Tatar milieu.
"The only way to keep Tatars from losing their identity is culture," she says.
"There's no point in talking about political independence right now. But we can create our own cultural independence. Tatar culture is very different from Russian culture. So we promote it and bring young people into what we are doing."
Tatar is spoken by more than 7 million people in Russia, Ukraine, Central Asia, Poland, China, Finland, and Turkey. It is a Turkic language that has been influenced over the centuries by Arabic, Persian, and Russian.
Limited Opportunities
Although its use declined in the Soviet era and Tatar-language education at all levels has long been a highly contentious issue, ethnic Tatars cling to it proudly. In the 2002 Russian census, 94 percent of those who identified themselves as ethnic Tatars claimed to speak the language. It is the only language used across wide swaths of rural Tatarstan.
Sabirova was born and raised in the Aktanysh region, some 400 kilometers east of the Tatar capital, Kazan. She studied Tatar philology at Kazan State University and then moved to Moscow to pursue the opportunities that city had to offer.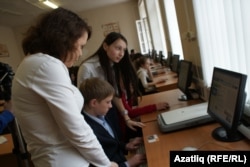 Although Tatar-language education is available, many send their children to Russian schools to improve their future prospects.
But she never felt at home in the Russian capital and, after a few years, brought her family back to Kazan. She sees now how her own children are subject to the pull and push of outside cultures.
Her son Bulat is 15 and her daughter Alfia is 13. Bulat avidly consumes Japanese anime art, while Alfia dreams of becoming a painter. Both are deeply immersed in Russia-dominated culture.
When it came to their education, Sabirova had to make some hard choices. She sent them to a Russian school.
"Parents must decide for their children," she says. "They can either send them to a Tatar school with reduced prospects for the future or to a Russian school, which will give them more opportunities after graduation."
Although there has been Tatar-language primary and secondary education in Tatarstan since shortly after the breakup of the Soviet Union, children who graduate from them cannot continue with their higher education in Tatar. The final exam of the Russian educational system is given only in Russian, and there are no universities offering full-time study in Tatar.
Sabirova sent her daughter briefly to a Tatar school, but soon made the "realist" decision to switch, both because of the limited horizons offered and because Alfia's early education in Moscow left her struggling to catch up in the Tatar school.
"Overall I'm not that disappointed she had to change to a Russian school," Sabirova says. "I've chosen other ways to teach my children to love their native language."
The Power of Song
Art, poetry, music -- these are the tools that Sabirova and the activists of Yzebez are using to pull Kazan's youths into their native culture.
Sabirova's own salsa and rumba rhythms backing Tatar lyrics are gaining popularity on the club scene. Likewise, popular Tatar-language rappers like Shakur are demonstrating the fresh vitality of an ancient tongue:
Tatar is no longer considered an endangered language, but it faces stiff challenges. Sabirova's youngest daughter, 3-year-old Sufia feels the gravitational pull of Disney princesses and other outside influences. And Sabirova has no desire to prevent her children from getting the most of what the entire world has to offer.
"You can't make your children speak Tatar just because they are Tatars," Sabirova says. But if you give them a good song with a good beat, you might be able to make them want to sing it.
RFE/RL correspondent Robert Coalson and RFE/RL Tatar-Bashkir Service correspondent Alsu Kumasheva contributed to this report