There's a lavish new set of government buildings in the Turkmen capital known collectively as the president's "Oguzhan" complex -- a reference to a historical Turkmen tribal leader of ancient times.
President Gurbanguly Berdymukhammedov took part in the opening ceremony for the aggregation of palaces on May 18.
The facilities, which reportedly cost some 250 million euros ($350 million) to build, boast everything you need to host high-level state events, including the welcoming of foreign delegations and holding of local government meetings. Some halls are equipped with state-of-the-art media technology that allows for the live broadcast of news and events.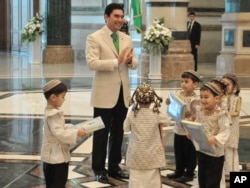 Turkmen President Gurbanguly Berdymukhamedov gives presents to children during the opening ceremonies on May 18.
The "Oguzhan" complex is meant to serve as the third working offices of Turkmenistan's political leadership.
In the early 1990s, after Turkmenistan gained independence, President Saparmurat Niyazov, who was famously known as Turkmenbashi ("Father of Turkmen"), occupied the building of Turkmenistan's Communist Party Central Committee, which was built in the mid-1900s.
In 1997, an $80 million palace was built by French construction company Bouygues on Niyazov's orders. It was called the "Palace of Turkmenbashi." After Niyazov's death in 2006, it was dubbed simply the "Presidential Palace."
-- RFE/RL's Turkmen Service