Thousands of people have marched in the Tunisian capital to demand that the country's long-time leader resign.
The demonstration in Tunis came despite Zine El Abidine Ben Ali's promise he will not seek a new term in 2014.
Ben Ali, who has ruled Tunisia with an iron fist for more than 23 years, on January 13 bowed to pressure in a bid to quell unrest that has killed dozens of civilians.
Looking repentant in his third televised address since the protest erupted, the autocratic leader urged a return to calm and promised a free media, as well as lower prices for food staples such as bread, milk, and sugar.
"I understood you. I understood all of you -- heroes, poor people, politicians. I understood that you need more freedoms," he said. "But the events we witnessed today in our country are unacceptable. Demolition and violence is not a tradition of Tunisians. Tunisian are civilized and indulgent. We do not accept violent behavior."
Unprecedented Pledge
After the speech, elated Tunisians poured into the streets of the capital, singing, dancing, and honking car horns to celebrate their president's unprecedented pledge for new freedoms following weeks of deadly riots.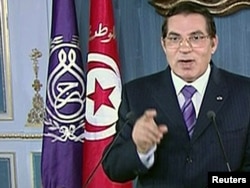 President Zine El Abidine Ben Ali addresses the nation
Rising food prices have been one of the protesters' main grievances, along with a crippling lack of jobs for young university graduates and anger at a leadership many see as controlling and corrupt.
The demonstrations, which started in the provinces but reached the capital this week, were sparked by the suicide of a 26-year-old unemployed graduate who set himself on fire in mid-December to protest the confiscation of his license to sell fruits and vegetables.
The official death toll is 23 civilians killed, but opposition leaders and human rights groups say the real figure is much higher.
Significantly, the 74-year-old Ben Ali said in his televised address that he would not seek a sixth term in office in 2014, a pledge that marks a turning point in the country's political history. Ben Ali has ruled virtually unchallenged since coming to power in a bloodless coup in 1987.
The announced changes were felt immediately. Tunisians opposition figures, all previously kept off the airwaves, appeared in an evening broadcast and Internet sites such as YouTube were unblocked.
'The Sooner, The Better'
Ben Ali's concessions are likely to dampen criticism from Western leaders, who until the unrest had praised Tunisia as a model of stability in the Arab world.
U.S. State Department spokesman Philip Crowley urged the Tunisian government to make good on its promises.
"The [Tunisian] government has made public commitments to respond to the concerns of its citizens [and] address the tensions that have brought these citizens out in protest," Crowley said. "And we hope the sooner they act on these concerns the better."
Despite the euphoria sparked by Ben Ali's landmark speech, not all believe it will end violence and help curb government abuse.
Thousands of angry demonstrators marched through Tunis today to demand the resignation of Ben Ali. A banner read "We Won't Forget," a reference to those killed in the police clashes.
UN High Commissioner for Human Rights Navy Pillay said the North African country has a history of jailing and torturing activists. She also voiced some doubts about Tunis' pledge to investigate allegations of official corruption within Ben Ali's government.
"I'm following closely the announcement made by the [Tunisian] prime minister that they are going to set up a commission to investigate these allegations," Pillay said. "I welcome this, but I'm very cautious in welcoming it because of the continuation of the arrests."
The United States and several European countries have advised their citizens against traveling to Tunisia, a major tourist destination.
The violence has spread to Tunisia's popular beach resorts, with angry demonstrators damaging a police station and several holiday villas on January 13 in the high-end Mediterranean resort of Hammamet.

written by Claire Bigg, with agency reports