It has been three years since the brief war between Russia and Georgia, and the political stalemate between the two countries remains deadlocked.
With no real negotiations taking place and both sides holding fast to irreconcilable positions -- Moscow has recognized the breakaway Georgian regions of Abkhazia and South Ossetia as independent countries, while Tbilisi insists they are an integral part of Georgia -- the prospects for movement seem dim.
In the run-up to this week's anniversary, Russian Prime Minister Vladimir Putin speculated that South Ossetia might join Russia. In an interview on August 5, Russian President Dmitry Medvedev was somewhat less direct, but still kept the door open to that possibility.
"There is no legal precondition for this as of now, but we can't tell what the future will bring," Medvedev said. "The situation could develop in any way whatsoever. Looking at it now, I think there are no legal or de facto prerequisites for that to happen."
In the three years since the three-day war that began on August 8, 2008, Russia has consolidated its control over Abkhazia and South Ossetia, moving in thousands of troops in violation of the European Union cease-fire Moscow signed ending the conflict and buying up property and key businesses in the territories. Most recently, Medvedev submitted legislation to the Russian State Duma to form a customs union with both breakaway regions.
Nonetheless, politicians and analysts in Georgia credit the conflict for sobering the political atmosphere in the country, shattering dangerous illusions, and paving the way for a long-term approach that offers at least glimmers of hope.
'No Quick Solution'
Giga Zadania, a professor at Tbilisi's Ilia State University, says Russia's aim in the conflict was not merely focused on the two breakaway regions but on the grander goal of derailing Georgia's overall effort to become a modern, Western, democratic country.
"Russia's aim was basically to completely thwart the Georgian project -- I mean, the recent project of Georgia that consisted in modernizing the country," Zadania says. "If there was a project after 2003 of making out of Georgia a modern, functional country and Russia wanted to thwart that."
He says that goal has not been achieved. In fact, he argues, the war ended the dangerous discussion within Georgia about quick fixes to solve the Abkhazia and South Ossetia disputes once and for all.
"All the more or less responsible political players know there is no quick solution to the problem and they cannot give any promises to the electorate that these problems can be quickly solved," Zadania says.
Likewise, the war and the reaction of the international community in the wake of the conflict disabused Georgians of unrealistic expectations about rapid integration into the West, particularly the idea that NATO membership for Georgia was assured and imminent.
Zadania says the political elite in Georgia now views the Euro-Atlantic integration process as a long-term project that depends largely on Georgia's own political decisions.
WATCH: In an interview aired by Russian television on August 5, Russian President Dmitry Medvedev spoke about the U.S. response to the Russian-Georgian war that erupted three years ago and Tbilisi's alleged "plan for a military gamble":
Irakli Alasania, who was Georgia's ambassador to the United Nations during the 2008 war and now heads the opposition Our Georgia-Free Democrats party, agrees.
"We are viewing the integration process more realistically at this point," Alasania says, "and we understand that a lot of work has to be done on the ground on judiciary, on legislative reforms, on economic reforms, that will bring us closer to the European Union."
Counseling Patience
Batu Kutelia, deputy secretary of Georgia's National Security Council who was deputy defense minister during the August 2008 war, tells RFE/RL that Georgia now is focused on the things it can do for itself. He says the key for the country is to continue its democratic transformation and other reforms without allowing itself to be distracted by "provocations from our enemies."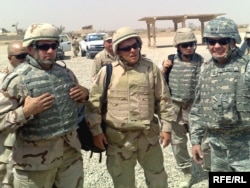 Batu Kutelia (center, in July 2008 photo), deputy secretary of Georgia's National Security Council, was deputy defense minister during the August 2008 war.
This long-term focus echoes the policy of the United States toward Georgia, which has been labeled "strategic patience."
"The official American position is the frankly bizarre 'strategic patience,' which is resting on the notion that Georgia is moving to become this absolutely democratic nation and that the Abkhaz will just want to be back and be part of Georgia," says Lincoln Mitchell, a Georgia expert at Columbia University in New York who is skeptical of the concept. "OK, that's largely based in fantasy and, kind of, propaganda. But even if you take it at face value, Georgia is sufficiently far away from being there that is a 10 to 20 year proposition at the very, very least."
Despite Mitchell's skepticism, politicians and analysts in Georgia have widely adopted a similar view. Alasania, for one, is adamant that only such a long view can resolve the conflict with the disputed territories and smooth out relations with Russia.
"I believe the most important realization Georgia should gain from what happened three years ago is that the only way to look forward and to move forward is to rebuild ourselves, rebuild our economy, help to get the institutionalized democracy and pluralistic democracy in this country and attract the Abkhaz to talk with us," Alasania says. "Because we have to know the Abkhaz and Ossetians better now -- because they changed [over] 10 years, we changed for 10 years. Abkhazia and Ossetia will not be the same as they were 25 years ago. So we have to understand this approach them from a different angle."
Ballot Box
In the short term, Alasania says, the most important thing for Georgia are free and competitive legislative elections in May 2012, which he expects will give the country a more pluralistic legislature and will move the political debate from the streets to the parliament.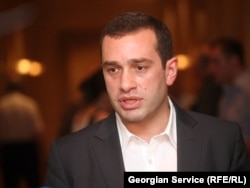 Irakli Alasania was Georgia's UN ambassador during the 2008 war and now heads the opposition Our Georgia-Free Democrats party.
He also views the 2013 presidential election as crucial .There has been widespread speculation in Tbilisi that President Mikheil Saakashvili may try to remain in power by taking over a newly empowered prime minister's post.
Alasania says such a move, which ironically would duplicate that tactic Saakashvili's archrival Putin used to remain in power in 2008, would be detrimental to the development of Georgian democracy.
"We need to make sure that Saakashvili will not Putinize himself, and his legacy that he will leave after leaving office will the first-ever peaceful transfer of power through elections in Georgia for the past 25 years," Alasania warns.
WATCH: In his interview aired on August 5, Russian President Dmitry Medvedev talked about Russia's relations with Georgia and why he spurns its president, Mikheil Saakashvili, three years after the two countries went to war:
Few in Georgia expect or even hope that the dispute with Russia or the status of Abkhazia and South Ossetia will be resolved in the foreseeable future.
Asked about the possible scenarios for these conflicts over the next three years, Georgian Foundation of Strategic and International Studies President Alexander Rondeli repeats the stay-the-course mantra.
"The worst-case scenario is a pro-Russian regime in Tbilisi and Russians controlling the whole South Caucasus," Rondeli says. "And the best-case scenario is just if we stay where we are in developing without Russian interference."