Tens of millions of dollars have been spent to try to save tigers in the wild, but their numbers have continued to spiral downward over the past two decades.
Hunted for their pelts and bones, which are used in traditional Chinese medicine, as few as 3,200 tigers are estimated to be roaming in the wild today. They are found mostly in isolated pockets spread across fragmented forests. Conservationists have warned that the world's largest cat may disappear altogether by 2022 -- the next year of the tiger, according to the Chinese zodiac.
Russia this week was hosting an international summit in St. Petersburg aimed at saving the endangered wild tiger.
But Ravi Chellam, the country director for the Wildlife Conservation Society's (WCS) India Program in Bangalore, tells RFE/RL that a future for tigers in the wild is still possible if the proper measures are taken.
"I'm not part of the global kind of cry saying tigers are going to go extinct in the next few years," Chellam says. "I think we've had this kind of alarm calls periodically and we've always seen that local action has enabled conservation.
"The key issue here is that tigers need space, and as long as they get sufficient habitat and adequate protection, there's very little human intervention that's required for them to survive."
Once Widespread
The world's largest cat, recognizable by its dark stripes overlaying fur that can range from off-white to reddish-orange, was once widespread from the Caspian Sea to Indonesia.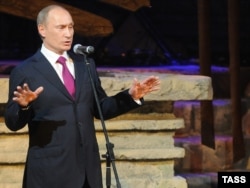 Russian Prime Minister Vladimir Putin speaks at the International Tiger Conservation Forum in St. Petersburg on November 23.
Habitat destruction and poaching of both tigers and their prey have wiped out the animal from western Asia, while three subspecies -- the Javan, Balinese, and Caspian tigers -- have gone extinct.
The tigers today remain in just 7 percent of their historical range, which span 13 countries in South and East Asia.
In southern India, WCS has partnered with government authorities, nongovernmental organizations, scientists, and local communities to enhance protection for Bengal tigers, their prey, and habitat in the Malenad-Mysore Tiger Landscape.
The 25,000-square-kilometer area, which encompasses and connects several adjacent tiger reserves, is today home to some 220 adult tigers, considered as one of the largest, best-monitored population in the world. That's thanks largely to intensive protection of the Nagarahole National Park, where tiger numbers have quadrupled after protection began in the early 1970s.
Chellam says these tigers have gone on to populate five other so-called "source sites" in the region.
"Tigers don't know political boundaries. Animals are breeding and dispersing out," he says. "When well-protected, they are also breeding in the sites they disperse to. So there are five very well-protected areas with very high densities of tigers, close to carrying capacity, which are in some sense feeding the larger landscape."
Voluntary Relocation
Chellam says regular, independent monitoring of tiger populations and their environment ensures a higher level of protection, with a network of local rangers reporting illegal activities in the reserve to concerned authorities for action.
In order to prevent and mitigate adverse human impacts on tiger populations, WCS has been supporting the voluntary relocation of human settlements out of tiger habitats.
To this end, 340 families have voluntarily resettled outside the reserve between 1999 and 2008, under the government-implemented plan. Incentives include support for agriculture, educational support, health, animal husbandry, and other necessities for resettled families.
They are also assisted in obtaining government benefits, including old-age pensions and livestock vaccinations, while dozens of youth have undergone training to enhance their employment opportunities.
Chellam says there is a long-term commitment to the relocated people, so that they don't suffer from their move.
"This is a government of India and state government policy. Our role has been to facilitate this process," Chellam says. "We work very closely with forest-dwelling communities; we make sure that they fully understand what this relocation means.
"We work with various government departments to ensure that the full benefits of the program reach these people, and we continue to work with these communities for five, seven, 10 years after their relocation to ensure that there is a certain level of hand-holding for them and support."
Seed The Recovery
According to a recent study conducted by WCS and other groups, the conservation strategy used in the Malenad-Mysore landscape has been "demonstratively successful."
The study, released in the September issue of "PLoS Biology," said conservationists must focus on protecting tiger populations in the remaining tiger breeding grounds instead of trying to safeguard vast landscapes, if they want to save the big cats from extinction.
The authors identified 42 source sites harboring the majority of the world's remaining breeding females and which could potentially seed the recovery of tigers across wider landscapes.
They said source sites need to remain embedded in larger landscapes, where conservation planning, requiring strict limits on habitat conversion and infrastructure development, is necessary.
The study says state governments and international groups are already spending $42 million annually on conserving the source sites.
Expending an additional $35 million for more extensive population monitoring, stronger law enforcement, and increased community organizing could enable tigers to multiply in the last strongholds.
In Siberia's Far East, which harbors the Siberian tiger, also known as the Amur tiger, the estimated cost for protection and monitoring six key areas totaled $12 million, compared to current expenditures of $2.5 million.
A survey conducted there last year indicated that population figures had fallen after a decade of stability, when the figure was estimated at about 460.