When it qualified for the group stage of the UEFA Champions League in 2008,
BATE Borisov made history
as the first soccer club from the independent state of Belarus to play in Europe's top club competition.
Now BATE is set to crash the elite party yet again, this time as Belarus is
suffering through the most dire economic crisis
of its young history.
The Belarusian ruble has crashed, declining by 36 percent against the dollar, and further devaluation is feared possible. Imported goods are scarce and prices on basic consumer products rise daily under soaring inflation that is projected to hit 55-75 percent for 2011.
This has led to increasing protests against the regime of President Alyaksandr Lukashenka, who was returned to power in an election in December, which was followed by a crackdown on opponents and demonstrators who questioned the election results.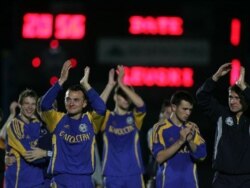 With BATE continue to be embraced by all?
While BATE manager Viktar Hancharenka, a former player who at 31 was the youngest-ever manager of a team in the Champions League last time around,
eschews politics
(in Belarusian, here's a
rough translation
), the same cannot be said of the club's chairman, Anatol Kapski, who is also the manager of the Borisov factory of Automobile and Tractor Electrical equipment (BATE) that sponsors the club.
Kapski campaigned for Lukashenka ahead of last year's presidential vote on the
promise of a new $20 million stadium
(again, a
Google translation
) in Barysau (Borisov in Belarusian), which is now under construction.
While the success of BATE, which has won the national league the last five years, has
drawn together sports fans across the country
(translation
here
), including some who support the government and others who don't, might Kapski's political activity make the club a symbol of an increasingly unpopular president?
-- Dan Wisniewski