As initiatives go, it seemed more in line with closure than opening new doors.
Turkey gave a response of sorts to its "Kurdish question" on August 23 when its armed forces announced that it had killed 100 militants from the outlawed Kurdistan Workers Party (PKK) in more than 80 sorties over northern Iraq in the past week.
On the same day, the army transported around 2,000 commandos to the Iraqi border in mini-buses in a clear statement of intent to the PKK that there was more to come.
Such is the state of Prime Minister Recep Tayyip Erdogan's much-vaunted "Kurdish Opening" less than three years after it was launched amid heady talk of a historic breakthrough in the Turkish state's troubled relationship with the country's estimated 14 million Kurds.
Under Erdogan's vision, a vicious conflict that has killed around 40,000 people since 1984 was to be replaced by a new age of harmony in which long-suppressed Kurdish cultural distinctions would be recognized in the form of having their own television channels and guaranteed rights to speak their language in public. Erdogan, a social conservative and former Islamist, once broke the mold in Turkish politics by becoming the first national leader to admit that the country had a Kurdish issue. It seemed a far cry from the unifying ideology of the modern state in which Kurds' ethnic distinctiveness was officially denied and covered up with the derogatory label of "mountain Turks."
So how -- just weeks after the ruling Justice and Development Party (AKP) won its third consecutive landslide election victory -- has it comes to this?
Closing The Opening
The government's hawkish approach is a response to a series of attacks by the PKK in recent weeks that have killed around two dozen Turkish soldiers.
Yet it also comes against an uneasy political backdrop that has seen the Kurds' democratically elected representatives as alienated as ever.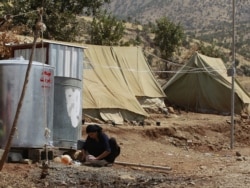 A woman washes dishes at a refugee camp near Qandil Mountain, a border zone in northeastern Iraq where Kurds have fled offensives in Turkey and Iran.
Having won a record 36 seats in last June's general election, the main Kurdish party, the Peace and Democracy Party (BDP), has since boycotted the Turkish National Assembly in protest over the presence in jail of six of its elected members for "terrorism" offenses.
Turkey's judiciary has refused to free the six, as well as a large number of other local municipal representatives in custody for supposed links to the PKK.
And Erdogan -- having vowed to seek consensus on the framing of a new constitution that could give Turkey a French-style presidential system -- has taken an equally uncompromising line by cutting off contact with the BDP and even declaring the Kurdish issue "solved" during the recent election campaign.
Cengiz Aktar, professor of European Union studies at Istanbul's Bahcesehir University, believes such a hard-line policy is out of step with what the situation needs. He says that the BDP "may come back in early October when the parliament reopens but before they boycotted anything, the government decided to boycott them, which he describes as a "joke."
"How on Earth [can] a Turkish government refuse to talk to the main political party representing the Kurds for a new social contract, of which the Kurds should be not only part and parcel, but also take full responsibility and join in to ensure that this conflict will be solved one [and] for all?" Aktar asks.
A 'Kurdish Spring'?
At the same time, Aktar acknowledges the PKK's contribution to the deteriorating political landscape with its resort to a renewed campaign of violence. "In my opinion, the answer to the crisis regarding the six MPs was not warranting the violent action the PKK has undertaken," he says. "That made things worse and the government had to defend itself and the country because among the population, the discontent was very, very high."
The military offensive's ferocity stands in stark contrast to criticisms by Erdogan and his foreign minister, Ahmet Davutoglu, of the bloody crackdown by the regime of President Bashar al-Assad on opposition protests in neighboring Syria, which has its own Kurdish minority.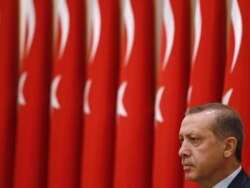 Prime Minister Erdogan is dealing from a position of strength, analysts say.
Turkish officials insist that the raids are aimed not at civilians but at damaging PKK infrastructure and rooting out its fighters.
Yet there are some who believe Turkey's Kurds could draw inspiration from the so-called Arab Spring that has inspired the revolt in countries like Syria, Egypt, and Libya, all of whose protest movements Erdogan has endorsed.
"With a bit of luck and political wisdom...the entire Kurdish people could take advantage of the ongoing Arab Spring and prepare the ground for a long-anticipated independent Kurdistan, linking up with Iraq's ongoing autonomy, the Iranian Kurdish enclave, and perhaps even the Syrian Kurdish minorities," an Israeli defense specialist, David Eshel, wrote in a blog on August 12. www.ekurd.net/mismas/articles/misc2011/8/turkey3317.htm
He was writing after the Congress for a Democratic Society (DTK), an umbrella movement for Turkey's Kurds, issued a declaration in Diyarbakir on July 14 proclaiming "democratic autonomy."
Erdogan Holds The Cards
Yet to some seasoned analysts, such forecasts are wildly premature and far-fetched. Soli Ozel, professor of international relations at Bilgi University in Istanbul, dismisses the DTK's plan as "nonsensical" and says Erdogan is acting from a position of strength.
"He wishes to either make sure that the BDP are going to be submitting to his will or he will keep them really out of the political equation of dealing with the Kurdish issue," Ozel says. "He is forcing them to do things that are perhaps not to their own liking and I think he's going to succeed."
Assisting the prime minister in this endeavor, Ozel believes, are signs of declining support among Kurds for the PKK's tactics, as witnessed by a recent call from Kurdish civil groups for an end to violence.
As for the "Kurdish Opening," only time will tell whether it's still alive. But with the prime minister apparently setting his sights on becoming president of a reformed Turkey, any revival will be on Erdogan's terms.
"Is the 'Kurdish Opening' dead? Certainly, it's not as alive as it used to be and we're not quite sure of the direction that it's taking," Ozel says. "I think the prime minister would not wish to risk his political fortune to become the president of the Turkish republic in a presidential system by making an opening that the Turkish public opinion is not terrible happy about, because nobody really explained to it why we needed to have it."