Inconvenient Friends: Shady Real Estate Deal Tests Kyiv Mayor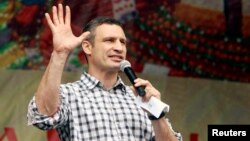 KYIV -- On the left bank of the Dnieper River in Kyiv, where there was once a park and public beach, a new block of luxury residential buildings has begun to sprout up.
The development project, called the Sunny Riviera, is controversial for many reasons.
The land it is being built on was, until recently, zoned for recreational use. The planned buildings are projected to be 30-stories high, which will block the view of -- and access to -- the river for thousands of nearby residents.
But the main reason Sunny Riviera is contentious is that it appears to have been approved under murky circumstances and its owners are connected to Kyiv Mayor Vitali Klitschko. The complex ownership scheme behind the project leads to several long-term friends and even current staffers of the mayor.
"Klitschko should understand that after the Maidan, Kyiv residents will not silently continue to endure lawlessness. Further toleration of developers will end as a political catastrophe for him," says Serhiy Leshchenko, a member of parliament and a former investigative journalist.
The questionable real-estate transactions and violations of city building codes took place long before Klitschko took office in 2014.
But given that he ran for mayor on a "clean hands" campaign, promising to stamp out corruption -- and given that the transactions involve several of his close associates -- the controversy over Sunny Riviera poses a thorny challenge for the former world heavyweight champion.
After long insisting the project was aboveboard, Klitschko called for prosecutors to review the documents related to the project on April 23, just hours before RFE/RL's Ukrainian Service aired an investigative report about Sunny Riviera. But as of April 29, the mayor had failed to follow-up at the prosecutor's office with an official request.
Meanwhile, Oleh Valendyuk, the city's prosecutor, has acted independently to challenge both the land allocation procedure and the building permits, according to his spokeswoman, Alyona Yakhno. Two separate lawsuits were filed to the Kyiv court of appeals and administrative court in December and March.
Land Grab
The Sunny Riviera saga began with a complex land grab.
The story began back in 2007, long before Klitschko took office as mayor. At the time the city was run by Mayor Leonid Chernovetskiy, who presided over what critics describe as many questionable takeovers of land in Kyiv. Many of those are still under investigation by Ukrainian law enforcement.
Until 2007, the 7.6-hectare patch that is now fenced-off for the project was actually five lots that were seemingly owned or rented from the city by different people.
The land was slated to be used for a variety of projects, all of which contained recreational infrastructure, such as beaches, sports facilities, and hotels. The area was zoned for recreational use, meaning that construction of residential buildings was banned.
Between 2004 and 2007, all five plots were bought by a firm called Mike. Of the five sales, three were signed by the company's director, Mykhaylo Stolar, whose son Vadym Stolar won election to the city council last year as a member of Klitschko's party and now chairs the budget committee.
Mykhaylo's mother, Yana Stolar, co-founded Mike. One of the other founders, Dmytro Krapivin, is the son of Volodymyr Krapivin, who is the business partner of Kyiv's current deputy mayor, Ihor Nikonov, who is Klitschko's right-hand man. Nikonov bragged to Ukraine's Forbes of being friends with Klitschko.
Speaking to the U.S. magazine Foreign Policy, Klitschko denied the connection between Krapivin and Nikonov, calling it "black PR" aimed at discrediting him.
"We even have a joke about this: One politician goes to another and says, 'I told everyone your daughter is a stripper.' The other politician has no daughter, but now he must explain to everyone why his daughter is not a stripper," Klitschko said.
By 2009, the land was sold to another firm, Terra Capital, with the same owners as Mike. The company was then reregistered offshore, hiding its owners.
The new firm got the land rezoned to build a residential complex, complete with a yacht club, dolphinarium, and aquapark. It was done through a simple resolution of the municipal department of architecture, in violation of the city zoning law.
In its advertisements and on its website, Sunny Riviera resembles a small city with skyscrapers rising 30 stories and higher. Thus far, only one-third of one has been built. There is no aquapark or dolphinarium visible on the plans.
Violating Safety Regulations
There also appear to be an alarming amount of irregularities in the paperwork related to Sunny Riviera's construction.
The construction site, for example, is clearly on the Dnieper River.
But an explanation letter -- part of the package of documents supporting the project and signed by a city official in 2005 -- claims that the Sunny Riviera is being built on the Desenka, one of the Dnieper's tributaries in Kyiv. The Desenka actually flows to the west of the construction site and feeds into the Dnieper about a kilometer away.
This was apparently an effort to circumvent building regulations that ban construction closer than 100 meters to major rivers for safety reasons.
But when the river is legally considered to be "medium-sized" -- as is the case with the Desenka -- the distance limit is reduced by half, to 50 meters.
"Just imagine, our Dnieper that flows on the whole territory of Ukraine is recognized in this document as a mid-sized river. All permits that were issued over the years by [various] institutions are based on this document," says Viktor Chumak, deputy head of the parliament's commission on the prevention and fighting of corruption.
According to Viktor Hleba, an architect and civic activist, Sunny Riviera is clearly "building in the coastal river protection zone."
Klitschko, who has been touring the United States this week in a hope to lure investors to his city, will have some tough choices when he gets back.