HRW Calls For Investigation Into Ukrainian Police Beatings, Attacks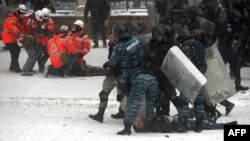 The New York-based watchdog Human Rights Watch has called for an investigation into police beatings and other brutal attacks amid the ongoing unrest in Ukraine.
In
a statement
on January 24, HRW accused riot police of brutally beating several people, including a 17-year-old, after detaining them on January 20 during a standoff in Kyiv.
Yulia Gorbunova, HRW's Ukraine researcher, said the treatment of Mikhailo Niskoguz -- who was beaten, stripped naked, and humiliated -- amounted to "torture."
HRW also called for an independent investigation into the abduction of two activists, Ihor Lutsenko and Yuriy Verbytsky.
Lutsenko was later dumped, alive, in a forest after enduring what he described as at least three mock executions.
Verbytsky's body was
found in a forest
outside Kyiv and showed signs of torture.
HRW says several factors point to the possibility that the abductors were in collusion with law enforcement and security services.
About This Blog
"Watchdog" is a blog with a singular mission -- to monitor the latest developments concerning human rights, civil society, and press freedom. We'll pay particular attention to reports concerning countries in RFE/RL's broadcast region.
Journalists In Trouble
RFE/RL journalists take risks, face threats, and make sacrifices every day in an effort to gather the news. Our "Journalists In Trouble" page recognizes their courage and conviction, and documents the high price that many have paid simply for doing their jobs. More