WATCH: Thousands of protestors rallied on June 24 in support of Ukrainian ex-Prime Minister Yulia Tymoshenko, who will be tried for alleged abuse of power. (Video by RFE/RL's Ukrainian Service)
By RFE/RL
The United States and the European Union have condemned the upcoming trial of former Ukrainian Prime Minister Yulia Tymoshenko for alleged abuse of power.

U.S. State Department spokeswoman Victoria Nuland said there are concerns that the trial -- due to begin on June 29 -- appears to be a "politically motivated" prosecution of an opposition figure.

"I'd like to take this opportunity to reiterate the United States' concern about the appearance of politically motivated prosecutions of opposition figures in Ukraine," Nuland said. "When the senior leadership of an opposition party is the focus of prosecutions out of proportion with other political figures, this does create the appearance of a political motive."

Jose Manuel Pinton Teixeira, the EU's ambassador to Ukraine, who attended a pre-trial hearing on June 24, criticized the crowded and stiflingly hot courtroom in Kyiv, saying "the conditions of this trial are inhumane."

Tymoshenko has been charged with abuse of office for signing a deal in 2009 to buy Russian natural gas at prices investigators said were too high, and without authorization to sign the deal.

Tymoshenko denies the charges, saying they are orchestrated by President Viktor Yanukovych to block her participation in upcoming parliamentary and presidential elections.

The charges carry a sentence of between seven and 10 years. A conviction would jeopardize her ability to take part in parliamentary elections next year and the next presidential election due in 2015.

Tymoshenko, one of the leaders of Ukraine's Orange Revolution in 2004, narrowly lost to Yanukovych in presidential elections last year.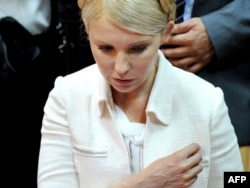 Yulia Tymoshenko makes the sign of the cross at the beginning of her court hearing.
The defiant Tymoshenko also described the judge, Rodion Kireyev, as the "presidential administration's puppet," according to RFE/RL's Ukrainian Service.
"No one has doubts that the Prosecutor's Office is privatized," she said. "The courts are privatized. There is no justice. That's why what is going on today is the personal responsibility and personal revenge of Yanukovych against his main political opponent."
'Inhuman' Courtroom Conditions
Thousands of Tymoshenko's supporters rallied outside the courtroom ahead of the pretrial hearing, chanting her name to show their support.
Tymoshenko arrived in the courtroom holding a pink rose. Known to have a penchant for theatrics, she crossed herself using the sign of her Ukrainian Orthodox Christian faith, then took a copy of the Ukrainian Constitution from her handbag and put it on the desk beside her.
Sitting next to her was an aide who wore a white T-shirt emblazoned with the words "Freedom For Political Prisoners."
'Selective Prosecution
'
Tymoshenko is now the target of several investigations, including the charge of abusing her authority, which allegedly caused severe financial losses for Ukraine after the country's dispute with Moscow over Russian natural gas deliveries.
Tymoshenko has signed a pledge not to leave Kyiv but has not been detained so far in the investigation.
However, several of her former top allies, including ex-Interior Minister Yury Lutsenko, have been imprisoned in other investigations, prompting the United States to raise concerns about "selective prosecution" in Ukraine.