The Soviet Union used to propagate the notion that dissidents were funded by Western intelligence agencies.
Today, those same (now, post-Soviet) elites, push an updated version of this notion, by arguing that their opponents work with Western foundations and NGOs to foment democratic "revolutions."
In Ukraine, President Viktor Yanykovych's campaign against the opposition is an outgrowth of his Party of Regions' alarm about the Arab Spring and of his rapidly collapsing popular support.
In 2003-2004, when the Communist Party (KPU) and Party of Regions first raised this fear of "revolution," the threat was portrayed as a contagion spread by the 2000 Serbian and 2003 Georgian democratic revolutions.
Yanukovych sees the world through the prism of foreign conspiracies, continuing to believe the Orange Revolution was not an authentic popular uprising but a US conspiracy to deny him the presidency that he allegedly won.
For instance, he believes that former Economics Minister Bohdan Danylyshyn was granted asylum in the Czech Republic only after bribes were paid to Czech ministers, and that Western criticism of his administration is written by paid hacks. (The Czech government believes that the expulsion last week of two of its diplomats was Kyiv's response to the granting of asylum).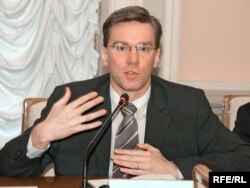 Ukraine only released German NGO director Nico Lange from custody after Angela Merkel intervened.
At this year's Davos summit, Yanukovych lamented the popular overthrow of the Tunisian dictator Zine el-Abidine Ben Ali because he had provided decades of "stability."
Immediately after Yanukovych's election, Western foundations came under Security Service (SBU) and Party of Regions scrutiny.
In June of last year, the Ministry of Foreign Affairs called in diplomats from the US, German and Polish Embassies to warn them that their NGOs should abide by Ukrainian legislation.
In October, the SBU admitted it was investigating foreign funding for NGOs because of suspicion that "this money will be used for political activity in Ukraine."
In August 2010, Nico Lange, director of the Konrad Adenauer Stiftung (a German think tank promoting democracy in developing countries around the world) was detained at Kyiv Airport and only permitted to enter Ukraine following intervention from Chancellor Angela Merkel.
George Soros A Regular Target
A month later, the Soros Foundation came under SBU scrutiny, as it did again in April when Party of Regions faction leader Oleksandr Yefremov claimed the foundation had allocated funding for the training of Ukrainian activists to implement projects "similar to those in North Africa."
This wasn't the first time that Party of Regions has gone after Soros; in 2003, it alleged that he had funded the Pora (Its Time!) NGO a reincarnated version of Georgia's Khmara (Enough!) youth group, which he had supposedly created in 2003.
Soros's spring 2004 visit to Crimea was dogged by claims he intended to prepare the ground for the training of nationalist and Tatar paramilitaries to support a "Chestnut revolution" in Kiev, and that he was "creating conditions for direct foreign intervention" in the Ukrainian capital.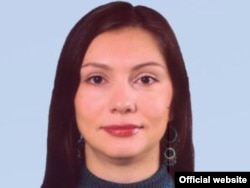 Ukrainian member of parliament Olena Bondarenko wants to restrict Western funding for NGOs.
The 2006 Russian law restricting foreign funding of NGOs, and the ideology behind it, was inspired by similar Ukrainian initiatives.
Ukraine introduced legislation on December 11, 2003 to investigate foreign support of NGOs. The vote to create a temporary investigative commission of eleven deputies was based on a November 2003 parliamentary resolution claiming that external financing of NGOs had, "reached mass proportions, and it amounts to direct interference in the internal affairs of Ukraine."
This, it was claimed, required examination of the activities of foreign-sponsored groups that might influence the upcoming 2004 presidential elections.
Party of Regions deputies, such as Olena Bondarenko, are publicly airing their support for draft legislation restricting Western funding of Ukrainian NGOs and the halting of Western training for activists and journalists.
President Yanukovych has transformed parliament into a rubber stamp institution and such legislation, if introduced, would be adopted.
KPU leader Piotr Symonenko demanded that all NGOs be closed during the 2004 elections or, even better, shut down permanently.
KPU deputy Valeriy Misiura, head of the investigative commission, told parliament that the authorities "should resolutely resist attempts by foreign embassies and organizations to meddle in our domestic affairs, dictate humiliating conditions, and influence decision making through organizations sponsored from abroad."
The vote to establish a commission came during the same month as the Rose Revolution and on the eve of President Mikheil Saakashvili's January 2004 visit to Kyiv, when he voiced his support for an opposition victory.
Increased Tax Probes Of Western NGOs
Misiura was convinced that the Serbian Otpor (Resistance) and Belarusian ZUBR (Bison) youth NGOs were training young Ukrainians in acts of civil disobedience.
The parliamentary commission never concluded its report because opposition members refused to endorse it.
Nevertheless, the State Tax Administration (DPI) increased investigations of Western-funded NGOs ahead of the 2004 elections. Last year, DPI head Nikolai Azarov became Prime Minister and head of the Party of Regions.
The KPU and Party of Regions have accused the Our Ukraine party of being directed from the US Embassy, an echo of the claim made by Minister of Education Dmytro Tabachnyk that the Yushchenko administration receives its orders from Washington.
'U.S. Conspiracy'
The KPU argued that a Yushchenko victory in 2004 would have led to Ukraine's becoming a "US and NATO protectorate," as was the case when the US allegedly intervened to ensure Saakashvili's election in Georgia.
Russian political technologists such as Gleb Pavlovsky, who worked on Yanukovych's 2004 campaign, imported conspiracy theories such as the so-called "Brzezinski Plan," alleging that the US was behind presidential guard Mykola Melnychenko and the "Kuchmagate" crisis, in which former President Leonid Kuchma was allegedly heard ordering that violence be used against journalist Georgi Gongaze.
The most prominent example of anti-American conspiracy-hypothesizing was the "PR" documentary, promoting this conspiracy theory, financed by oligarch Viktor Pinchuk and Sergei Tigipko. Pinchuk is Kuchma's son-in-law and Tigipko was the head of Yanukovych's 2004 election campaign; since 2010, he has been Deputy Prime Minister.
Former President Kuchma and Parliamentary Chairman Volodymyr Lytvn continue to insist the tapes are a product of a "US conspiracy," which in their eyes was confirmed by US asylum for Melnychenko.
The People's Party that Lytvyn heads issued a statement in December 2009 alleging that "The organizers of these events had as their aim to undermine the system of state power in Ukraine and, especially, to weaken the position of the president who was in power at that time. This series of events had as its aim to clean the political field for Viktor Yushchenko and to blacken his opponents as politicians who had lost their humanity and any elements of morality."
The return to conspiracy theories draws on the Soviet pathology of paranoia, the fear of encirclement by "enemies," hostility to Ukrainian nationalism and old-fashioned anti-Americanism.
That the KPU and Party of Regions have revived these tactics, after first airing them eight years ago, shows how little democratic evolution has taken place in the Yanukovych administration.
Taras Kuzio is a Visiting Fellow at the Center for Transatlantic Relations, School of Advanced International Studies, Johns Hopkins University. The views expressed in this commentary are the author's own and do not necessarily reflect those of RFE/RL