It's the most high-profile murder case in Ukraine's history. While more than a decade has passed since the decapitated body of 31-year-old journalist Heorhiy Gongadze was found in the woods outside Kyiv, the widely held belief that his killing was ordered from the top echelons of government remains unproven. Gongadze, editor of the news website Ukrayinska pravda, was a vocal critic of then-President Leonid Kuchma.
Controversy and conspiracy theories continue to swirl around a set of secret recordings made by a member of Kuchma's security staff that allegedly capture the ex-leader telling officials to "deal with" Gongadze. A number of analyses have authenticated the recordings, while others said it was impossible to prove that they are original. Kuchma's claim that the tapes were doctored failed to stop mass demonstrations against his government in early 2001.
Years later, and even after former employees of the Interior Ministry were jailed for the murder, many Ukrainians believe the true orchestrators of the crime may never see justice.
But on March 24, Ukrainian prosecutors announced that they had launched a criminal investigation against 72-year-old Kuchma for his alleged involvement in the murder, evidently relying on the tapes as evidence.
That development, greeted by some as a breakthrough, has itself generated controversy among many Ukrainians, who see ulterior motives behind the investigation.
Is this meant to distract the public from the country's financial woes? Does this amount to the revenge of current President Viktor Yanukovych against Kuchma, who failed to use force to stop the Orange Revolution in 2004? Or is the case meant to show the West that Ukraine has undergone enough political development to finally hold its leaders accountable?
Former President Leonid Kuchma arrives at the prosecutor's office.
Another unforeseen twist came when, days after the investigation was announced, Kuchma hired star U.S. attorney Alan Dershowitz to join his defense team. One of the United States' most formidable litigators and a prolific author, he is best known for his passionate defense of Israel and his work as an adviser to the defense team in the 1995 murder trial of former professional football player O.J. Simpson.
In an exclusive interview with RFE/RL correspondent Richard Solash, Dershowitz spoke about his role in the Kuchma case, the controversial recordings, and the rule of law in Ukraine.
RFE/RL: How did you become involved in this case and what convinced you to take it on?

Alan Dershowitz:
Well, as is very common in my practice, a former student -- an honors student who I had the privilege of teaching at Harvard Law School -- called and told me about the case and asked me if I would have any interest. I've always had a lot of interest in the intersection of law, science, and politics, and this case has all three, because the crucial evidence is scientifically questionable.
There were audio recordings allegedly made by a rogue security officer, but held for 10 years -- he tried to sell them to people -- and they were found to be inauthentic and the investigation itself, done by the prosecutors' office, found that there was no way of authenticating the tapes, and it looked like the matter was over.
Then, just a month or so ago, they reopened the investigation, and basically without any new evidence said, "Now we think the tapes are authentic and we're going ahead with the investigation." So the science didn't change, the law didn't change, the evidence didn't change -- the only thing that changed was the politics.
RFE/RL: What are the facts, as you see them, in this case?

Dershowitz:
Well, the facts are that there is a recording -- a recording that allegedly contains words spoken by former President Kuchma -- but the experts have concluded that it's more likely that the tape was faked and that words were transposed, omitted, added, to made President Kuchma appear to be saying things that he actually didn't say.
And without those tapes being authenticated, there really is no evidence, and that's what the chief investigator concluded in September of 2010 and why he strongly recommended that the investigation be closed and that no prosecution be brought.
RFE/RL: How much contact have you had with Kuchma himself? Is he confident that his name can be cleared?

Dershowitz:
Yes, he is very confident and very hopeful. He knows what he said on the tape.
It reminds me of something that happened to me 25 years ago when I was the victim of a fake tape. In those days it was very easy to disprove a tape because it was a literal tape that had been cut and spliced and the FBI [U.S. Federal Bureau of Investigation] determined that it was completely contrived. So I know what it feels like to be accused of something on tape when you know you didn't say it. I never worried for a minute because I knew I never said anything like what I was alleged to have said.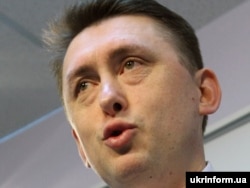 The case hinges on recordings made by Mykola Melnychenko, a former Kuchma bodyguard.
I think President Kuchma has the same level of confidence, except, of course, it's much easier now to doctor tapes with digital recordings and much harder to detect any doctoring. So inevitably he's a bit concerned, which is why, I think, he retained me and other experts to do a fair and complete analysis of the case.
I've met with President Kuchma, I've spoken to him, [and] I've met with his lawyers repeatedly. I'm involved in the case in a consulting capacity. Obviously, I'm not licensed to practice in Ukraine. I don't read or speak the [Ukrainian] language or Russian, but we have translators and students and lawyers who are bilingual, so I'm playing a very active role in the case.
Why Now?

RFE/RL: Why do you think the charges against Kuchma have been brought now, more than a decade after the journalist Gongadze was murdered?

Dershowitz:
Well, I can tell you why they weren't. I can tell you reasons that would explain why they weren't brought. There's no new evidence, there are no new witnesses, there's no new technology that would help validate, and there's no new law, so really all that's left is politics.
There are new people -- they basically retired the old investigator and put on a new investigator -- and the rule of law has to prevail over the whim of human beings. In this case, it's just the human beings who are involved in the prosecution that have changed. Nothing else of relevance has changed.
So I can't tell you why there has been a renewed investigation. I can tell you what reasons don't exist that would justify a new investigation. So it seems to me that politics is the best explanation -- the rule of man rather than the rule of law.
RFE/RL: Previously, Kuchma has said that the recording scandal was perhaps organized by foreign security services. Do you plan to use this claim as part of your defense?

Dershowitz:
No. We have no burden to prove who faked the tapes. The prosecution has the burden to prove that they were not faked. So we'll leave that to historians and to journalists to decide who might have been involved in this plot. For us, as lawyers, our only obligation is to look at the actual evidence in the case, and we're confident that any objective view of the evidence will lead to the conclusion that they cannot be validated, they cannot be verified, and they cannot be used in any criminal case against the defendant.
Will The Rule Of Law Prevail?

RFE/RL: Another person who is mentioned on the recordings as being connected to the Gongadze case is current parliament Chairman Volodymyr Lytvyn. However, no charges have been brought against him. Is this selective justice?

Dershowitz:
Well, there are a lot of situations where there haven't been charges brought. For example, the man who allegedly made the recordings and tried to sell them and may have doctored them -- there was a criminal investigation opened on him and it was closed. Now there's an effort to reopen it.
What I think has to prevail is one rule, one standard of justice for all. There can't be selective decisions that a certain person should be prosecuted and others not prosecuted. It has to be a single standard of justice and that's all we're demanding -- a single standard based on the evidence and on the law.
RFE/RL: Rights watchdogs have described the Ukrainian judicial system as suffering from inherent corruption, ineffective procedures, and lack of professionalism. Will the judicial climate be an impediment to a fair case?

Dershowitz:
Well, I think one of the benefits of having outside lawyers -- I call them "lawyers without borders" now -- coming into these cases -- and I'm not the only American lawyer involved [in cases in Ukraine]: the former prime minister [Yulia Tymoshenko] has an American law firm representing her as well -- I think it helps to bring a single standard of justice to the world [and] certainly to those countries that are interested in having the rule of law prevail.
So I'm going to look at the Ukrainian system with an open mind and with an open heart, hoping that it will achieve what it aspires to, and that is an ability to do fair justice. No system of justice is perfect. I've been very critical of the United States' system of justice: I wrote a book critical of the Supreme Court's decision in Bush vs. Gore and other cases.
So every system of government and every system of law has its flaws. Most aspire to eliminate those flaws, and I hope I can be helpful in pushing the Ukrainian system toward more of a system of the rule of law and less of a system based on who happens to be in power [and] who the investigators are at a particular period of time.
'Not Justice, But Politics'

RFE/RL: Many Ukrainians think political motivations are behind the charges against Kuchma, as you yourself have also suggested. There's speculation that the government might have been motivated to open the investigation as a way to influence Western views of Ukraine, in the belief that observers might be pleased to see more transparency, to see the government hold its leaders accountable. What about suggestions that Kuchma hired you, a high-profile Western lawyer, to try to offset that potential interpretation of what this case is about?

Dershowitz:
Well, I think that no legal case should ever be brought to make a point. In order to prove that a system works or doesn't work, you shouldn't be leaning over forward [and] you shouldn't be leaning over backward. Cases should be brought based solely on the evidence, solely on the testimony, and solely on the law.
If this case will help improve the system of justice in Ukraine, that's fine, but that's just an added benefit. I get very uncomfortable when somebody says, "We're bringing this case to prove to the West that we have a good system of law." That presupposes a particular outcome, and when you presuppose a particular outcome in a case, that's not justice. That's politics.
RFE/RL: What impact do you think this case could potentially have on governance and politics in Ukraine?

Dershowitz:
Well, it's a very important case. It's an important case particularly for the rule of law in Ukraine. I have no interest -- none at all -- in what effect it has on Ukrainian politics. I know nothing about Ukrainian politics. I don't know, if I were Ukrainian, who I would vote for for any particular office. It's not something that I have studied with care.
Obviously I would like to see Ukraine move toward democracy and the rule of law, and this is a very important case because it asks the question, "Should a prosecution be brought based solely on a change of personnel, without any change in the evidence, and without any real doubt that the original investigator was very professional and came to the right professional conclusion based on the law and the facts and the evidence that no prosecution should have been brought?" So that, to me, is the key question in this case.