Supporters of a no-fly zone over Libya were racing against time to push for a vote in the UN Security Council as Muammar Qaddafi's troops close in on the rebels' last major stronghold.
France and Britain, the main backers of the move, and the United States, were pressing for a decision by the end of the day on March 17.
French Prime Minister Francois Fillon said France wants to see military action within hours if the UN Security Council adopts a resolution.
British Foreign Secretary William Hague said the draft resolution calls for "all necessary measures short of an occupation force" to protect civilians under threat of attack.
U.S. Undersecretary of State William Burns told the U.S. Senate that Washington supports international measures in Libya "short of boots on the ground."
NATO said it was not too late to intervene in Libya, but the United Nations must approve such a decision.
Meanwhile, Qaddafi has vowed to retake the rebel capital of Benghazi and the rest of the opposition-held east of Libya, offering amnesty to those who surrender, but "no mercy" to those who don't.
In an address March 17 broadcast on state TV, Qaddafi said his forces will begin the assault on Benghazi, proclaiming "the matter has been decided ... we are coming."
Qaddafi's planes have begun bombing Benghazi, the rebel stronghold and the last major city within their control in the east of the country.
Tanks were also seen advancing on Benghazi.

compiled from agency reports
Liveblog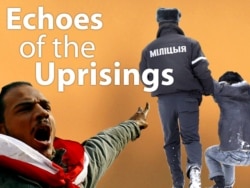 Tracking events and ideas convulsing the Arab world and with ripples around the globe, including RFE/RL's broadcast region.
Click here