United Russia, Putin Prepare For National Elections
The contours of Russia's next election season are becoming clearer, and Prime Minister Vladimir Putin is sending the strongest signals yet that he intends to return to the presidency in 2012.
At a conference of the ruling United Russia party in the southern city of Volgograd on May 6, Putin called for the formation of a "popular front" of "all people who are united by a common desire to strengthen our country."
He also pointedly referred to Volgograd by its World War II-era name, Stalingrad, ahead of Victory Day celebrations on May 9.
Putin said the party needs "new ideas, new suggestions, and new faces" before the national legislative elections in December and the presidential election in March 2012. He emphasized that non-United Russia people from the new organization could be included on the party's list of candidates for the Duma.
The move was apparently intended to broaden United Russia's appeal following the party's disappointing showing in many regional elections in March and a string of scandals that left the party's image tainted.
Most prominent among these was the purging of former Moscow Mayor Yury Luzhkov, a long-time senior party leader who was hounded out of office amid vague public charges of massive corruption.
Consolidating The Pro-Kremlin Vote
Almost as soon as Putin finished speaking in Volgograd, representatives of Kremlin-friendly trade unions, agricultural associations, and veterans' organizations seconded the idea, and emphasized that their members had earnestly requested the very same approach.
The day after the May 6 announcement, Putin met at his residence outside Moscow with the heads of several Kremlin-connected organizations, including Timur Prokopenko, head of the United Russia youth wing, and the heads of the Union of Pensioners and the Afghan War Veterans Union -- both of whom are United Russia Duma deputies.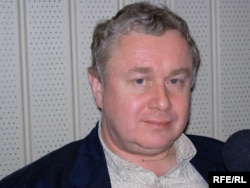 Russian political analyst Grigory Golosov
Putin said he intends to meet with the heads of the new "popular front" at least once a month.
The creation of the new front both distances Putin from the flagging United Russia party and strengthens his control over it.
Moscow-based political scientist Grigory Golosov sees the move primarily as a prelude to an increasingly likely Putin presidential campaign:
"If they [establish this new grouping], and there is no reason to think they won't, then we can say that Vladimir Putin will be nominated precisely by this 'popular front' -- that is, by all Russians who are for a better life," he says.
"That, of course, is much better than saying that he was nominated by a party of swindlers and thieves."
Putin's own press secretary, Dmitry Peskov, was also fairly blunt on this point, telling journalists: "It is a supra-party that is not based on the party. Rather, it is focused on Putin, the creator of this idea."
In addition, the new popular front could also be a strategy for consolidating the pro-Kremlin vote. Previously, the administration could allow itself the luxury of sponsoring several parties, including United Russia, A Just Russia, the Patriots of Russia, and Right Cause. For instance, in the 2008 presidential election, Dmitry Medvedev was endorsed by United Russia, A Just Russia, the Agrarian Party, the Green Party, and Civic Force.
Putin Nomination Increasingly Likely
Now, with United Russia's support dwindling and none of those other parties ever having gained traction, the Kremlin seems to be moving toward consolidating its position in order to produce the broadest range of support for its candidate -- which seems increasingly likely to be Putin, although the new popular front could nominate Medvedev.
"At present, I am getting the impression that the basic strategy of United Russia is the weakening of its competitors," says Yevgeny Minchenko, director of the Moscow-based International Institute of Political Expertise.
"So far the essence of United Russia's election campaign is not to find new campaign approaches but to purge the electoral-political field and [ensure] its domination by only the ruling party. We have only one party -- the party of the authorities and that is the party of Vladimir Putin."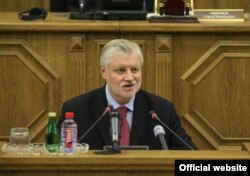 A Just Russia party leader, Sergei Mironov, has come under fire in recent days, possibly as part of United Russia efforts to undermine any potential opposition.
Another indication that the Kremlin intends to bring A Just Russia into the fold is the recent political assault on that party's leader, Federation Council Chairman Sergei Mironov.
Mironov technically represents the St. Petersburg Legislative Assembly, and that body is, like almost all regional legislatures in Russia, dominated by United Russia. In recent days, deputies have begun a noisy campaign to replace him.
Moreover, on May 10, Putin announced the creation of an Agency of Strategic Initiatives, a body answerable to him that is intended to promote new business ventures, foster innovation, and help young entrepreneurs. Previously, such "modernization" had been the exclusive bailiwick of Medvedev, who has tied his reputation to the "Russian Silicon Valley" project of Skolkovo.
An unnamed Kremlin source told "Kommersant" that the point of the new agency is to ensure Putin's control of key money flows during the national election season. "Vedomosti" editorialized that the point is to burnish Putin's "image as a modernizer."
Taken together, Grigory Golosov believes the moves seem to indicate a clear -- but not unalterable -- direction for the upcoming season of national elections in Russia.
"Now it is becoming increasingly clear that Vladimir Putin has decided to run for president himself," he says, "and that he will most likely head the United Russia list [for the Duma election]."
with contributions from RFE/RL's Russian Service