U.S. Diplomatic-Security Chief Resigns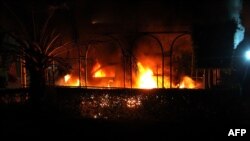 The U.S. State Department has confirmed that its head of diplomatic security has resigned and three other officials have been relieved of their duties in the wake of an investigation into the September 11 attack on the U.S. diplomatic mission in Benghazi, Libya.

The attack by armed militants killed the U.S. ambassador to Libya and three other Americans.

The State Department said in a statement on December 19 that Eric Boswell, head of the department's bureau of diplomatic security, had resigned, and three other unnamed officials were put on administrative leave.

The developments come in the wake of the release of a report by an investigation panel that found security "grossly" lacking at the Benghazi mission.

Secretary of State Hillary Clinton has accepted the report and its recommendations.

The leaders of the independent panel tasked with investigating the attack and compiling the report spoke to U.S. lawmakers in classified briefings on December 19.

Speaking to the press after testifying, Benghazi Accountability Review Board Vice Chairman Admiral Michael Mullen said a "lack of leadership" by "certain" officials had contributed to the security lapses

"While we did not find that any individual U.S. government employee engaged in willful misconduct or knowingly ignored his or her responsibilities, we did conclude that certain State Department bureau-level senior officials in critical positions of authority and responsibility in Washington demonstrated a lack of leadership and management ability appropriate for senior ranks in their responses to security concerns posed by the special mission," Mullen said.

Panel Chairman Thomas Pickering said the "heroic" efforts of the security staff in Benghazi were insufficient to save the lives of U.S. Ambassador Christopher Stevens and the three other Americans killed in the terrorist attack, which has been blamed on Al-Qaeda-linked militants.

He said the U.S. security personnel in Benghazi "did the best that they possibly could with what they had, but what they had was not enough -- either for the general threat environment in Benghazi, and most certainly against the overwhelming numbers of attackers and the weapons that they faced."

Clinton: 'Serious, Systemic Challenges'

An unclassified version of the Benghazi probe report released on December 18 singled out the Bureau of Diplomatic Security and the Bureau of Near East Affairs, saying there appeared to be a lack of cooperation and confusion over responsibility for safeguarding the Benghazi mission.

The report also found that budget constraints in the past had led some management officials to put savings before security, rejecting several requests from U.S. posts in Libya for extra protection.

In a letter that accompanied the transmission of the report to lawmakers, Secretary of State Clinton thanked the probe for providing a "clear-eyed, serious look at serious, systemic challenges."

She said she accepted all of its 29 recommendations for boosting security at high-threat U.S. posts and that the State Department had already begun to implement some of them.

Lawmakers from both the Democratic and Republican parties emerged from the December 19 hearings expressing frustration at the State Department.

Open hearings set for December 20 were to include testimony by Deputy Secretary of State William Burns, who is in charge of policy, and Deputy Secretary of State Thomas Nides, who is in charge of management.

Clinton was originally scheduled to testify but canceled on doctor's orders after fainting and sustaining a concussion last week while recovering from a stomach virus.


With reporting by AP, AFP, and CNN