Following recent casualties near the disputed region of Nagorno-Karabakh, U.S. Ambassador to Azerbaijan Matthew Bryza has again urged the Armenian and Azerbaijani forces to withdraw snipers from the line separating them.
Speaking to RFE/RL's Azerbaijani Service, Bryza reiterated that there is no military solution to the conflict, and that threats such as Baku's to
shoot down commercial aircraft
on flights to the region are unacceptable.
RFE/RL: The OSCE chairman-in-office has called for specific steps from Armenia and Azerbaijan, such as withdrawing snipers from the "line of contact" of their armed forces. Similar calls were made by the Minsk Group's French, Russian, and U.S. co-chairs on a very high level two years ago, when you were one of the co-chairs. In your opinion, what was the reason for the conflict parties' ignoring of the calls? Do you think it might work this time?

Matthew Bryza:
Following the March 5 summit in Sochi, the Minsk Group co-chairs reiterated their call for the withdrawal of snipers, and directed the world's attention to the commitments in Sochi by Presidents [Ilham] Aliyev and [Serzh] Sarkisian to a peaceful, negotiated settlement of the conflict and to investigate all violations of the cease-fire.
In keeping with these commitments, it is important for the OSCE to carry out thorough investigations of reports of two recent deaths near the line of contact, one of a young Azerbaijani boy and one just yesterday of an Armenian soldier. Any such death is a tragedy, which underscores in powerful human terms why the use of force must be condemned. As the co-chairs have repeatedly stated, there is no military solution of the Nagorno-Karabakh conflict.
On a related issue, the threat or use of force, including against civilian aircraft that pose no threat themselves, is unacceptable, and runs counter to commitments made by the presidents of Azerbaijan and Armenia to seek a peaceful, negotiated settlement. We urge the sides to work together to resolve all issues of commercial aviation safety prior to the planned opening of a new airport in Nagorno-Karabakh.
RFE/RL: You said in a recent interview that this year will be important for the regulation of conflict. Can you be more specific with this?

Bryza:
I think your question may be confusing two separate issues. I recently stated that this year will be an important one for the conclusion of key commercial and legal agreements for the Southern Corridor, which will connect natural gas produced in Azerbaijan with European markets.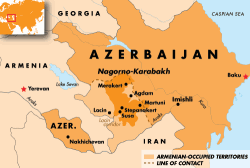 As for Nagorno-Karabakh, I have repeatedly said that no issue is more important than a peaceful negotiated settlement of the conflict. While I am not a participant in the negotiations, I stand ready to do everything necessary and appropriate to assist Ambassador [Robert] Bradtke and his fellow Minsk Group co-chairs.
Azerbaijani Opposition Under Pressure

RFE/RL: "Forbes" has reported accusations that the U.S. firm Booz Allen Hamilton provided the Azerbaijani government with specific programs to help search for cyberdissidents. The firm is working in Azerbaijan and is involved in Pentagon projects. Any comments on the issue?

Bryza:
This is the first I've heard of the story. I'll want to look into it.
As regards the general issue of Internet activism, I can tell you that President [Barack] Obama, Secretary [of State Hillary] Clinton see the Internet as a key player in the future of democratic debate and discourse, and the rapid growth of Facebook and other social-media sites in Azerbaijan is providing citizens with a new opportunity to discuss the issues facing this society. We want to see a fully open Internet space, without restrictions.
The Internet is not a philosophy -- it is a tool. Facebook is not a policy -- it's a platform. And I see day by day all views expressed online in Azerbaijan, from the most pro-government to those most critical of the government. That's the way it should be.
RFE/RL: Dozens of young activists were arrested ahead of and during the March 11-12 protests. Now an opposition rally is planned for April 2. And the protest in the center of the city has not been sanctioned.

Bryza:
Article 49 of Azerbaijan's constitution allows for freedom of assembly, and I hope the government of Azerbaijan continues to push ahead in complying with its commitments to free speech and assembly. Peaceful protest -- open dissent -- is the hallmark of a developed democracy, and I have raised the issue of the detained activists with senior government officials as recently as this afternoon.