TASHKENT -- Uzbek security services have closed down bookstores specializing in religious literature in Tashkent, RFE/RL's Uzbek Service reports.
Twenty bookstores in the Kitoblar dunyosi (World of Books) book trading center have been raided by Uzbek National Security Service (NSS) agents, police, tax officers, and representatives of the government Committee for Religious Affairs in the past week and closed.
Kitoblar dunyosi was the only place allowed to sell books on religion, primarily on Islam and mainly published in Uzbekistan.
A source close to the bookstores' owners who saw one of the raids told RFE/RL that officials were searching for specific Islamic books that were no longer published in Uzbekistan. He said that storeowners believe the exercise was directed against the sale of all kinds of religious literature.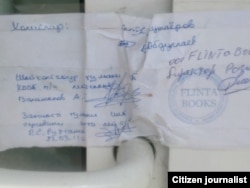 A paper seal on Flinta Books
Photos sent to RFE/RL show the door to one of the stores, Flinta Books, taped shut with a paper seal bearing the signatures of an Interior Ministry officer, an NSS officer, and the store's director.
There has been no official comment on the raids.
The U.S. State Department's 2010 report on religious freedom says that in Uzbekistan possession of literature by authors deemed to be extremists, or of any literature illegally imported or produced, may lead to arrest and prosecution.
The government categorically prohibits leaflets on the banned group Hizb ut-Tahrir and literature on Nur, a Turkish Muslim group deemed extremist.
The Committee for Religious Affairs (CRA), a government agency accountable to the Cabinet of Ministers, must approve all religious literature.
According to RFE/RL's source, bookstore owners were selling only books approved by the state.
Local human rights activists say authorities have intensified their already tight grip on religion in the wake of the recent antigovernment uprisings in the Middle East.
Employees in various sectors have reported they have come under pressure not to perform the five daily Muslim prayers, including Friday Prayers, during working hours. Women working in offices and markets have complained they are being told by employers not to wear the hijab, or Islamic head scarf.
At the same time, the government is continuing its crackdown on what it calls radical groups willing to overthrow the constitutional order.
Human rights groups have criticized the authorities, saying many people have been labeled "extremists" and jailed for peacefully practicing their religion.
The government is also getting tougher on activities such as proselytizing and importing and disseminating religious literature.
Officials have confirmed around 15,000 Bibles have been confiscated in the past year.
On March 13, Uzbek police raided a Sunday worship service led by Baptists in a retirement home in Tashkent.
According to the Forum 18 News Service, police claimed they were on a counterterrorism operation and are preparing a criminal and administrative case against the Baptists.
Read more in Uzbek
here