The East is coy when it comes to celebrating Valentine's Day, with some countries banning it as a Western imposition, while activists in other countries use the traditional day of love to play politics.
In Iraq, three youth groups have called for a Valentine's Day rally in Baghdad's Tahrir (Liberation) Square, which like many regional capitals bears the same name as the Egyptian square that made headlines recently during the country's uprising.
Following the lead of countries like Egypt and Tunisia, where protesters took to the streets demanding political reform, these young Iraqis are using Facebook to call for an end to the political deadlock and rampant corruption in the country. The corruption watchdog Transparency International lists Iraq as the fourth-most corrupt country in the world.
"We chose February 14, Valentine's Day, to prove to the world that we have made the Valentine's Day of Iraq. We are here today to express our love for Iraq. Iraqi protester Nawf al-Falahi told Reuters today.
"Our demand is not a difficult one, we demand reform of the situation," Falahi added. "There has been no tangible change since 2003 and until now, there is no development. We want [the government] to fulfill the promises they made before the election, their promises were rosy. We want them on the ground. This is the only thing we want."
For these protesters, any thought of celebration is cut short by the condition in the country. "We are so upset. We can't celebrate Valentine's Day, because we have a lot of problems," one woman tells RFE/RL's Radio Free Iraq, "like the shortage of items on our monthly ration card, a lack of electricity, and poverty."
Iraq's protests come as an opposition demonstration is set for today in neighboring Iran, where the opposition Green Movement has defied a government ban to call for a march in solidarity with protesters in Egypt and Tunisia.
Supporters of the Iranian rally have been posting a "V" on their personal Facebook profile pages in a nod to the "V for victory" sign used by the opposition during the country's 2009 antigovernment protests and, perhaps, also in recognition of the coinciding holiday.
A Christian Saint Of Love
Valentine's Day is generally seen as a Christian holiday, but it is actually pagan in origin, arising out of the ancient Roman Lupercalia festival. Early efforts by Christian leaders to "Christianize" the pagan feast led to its observance as a feast day honoring a legendary third-century Roman priest allegedly named Valentine.
Over time, however, the celebration of St. Valentine's Day moved from a day of Christian piety to a more all-embracing celebration of love, particularly the love between couples.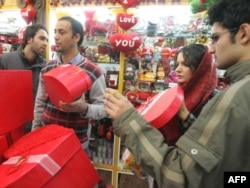 Iranians shop for a Valentine's Day gift in a shop in Tehran.
This is a point of concern for authorities in many Islamic countries, who cleave to traditional moral values not typically associated with the modern celebration of Valentine's Day.
The Uzbek newspaper "Turkiston" wrote on February 12 that "forces with evil goals" were behind "making the 'lovers' day popular," while in Kazakhstan last week a youth group symbolically destroyed Valentine's Day cards for local media to protest the attempt to introduce a "foreign" holiday.
Over in Russia's Belgorod region, officials
banned St. Valentine's festivities
for the sake of the people's "spiritual safety," with one local government spokesman telling reporters that "we could just as well have introduced a Vodka Day."
Updating The Language Of Love
Iran, meanwhile, forbids unmarried couples from socializing publicly, a policy that tends to have a chilling effect on most Valentine's Day plans.
But the policy is difficult to enforce on the country's swelling -- and often defiant -- younger generation. For example, a Tehran-based author who wishes to remain anonymous is currently at work on a book, "The Persian Dating Glossary," which includes the explanation of various Persian slang words used to circumvent Iran's dating restrictions, including "doostmamooli," a word that roughly translates to "regular friend" and is used to refer to someone with whom there is absolutely no romantic involvement.
The word evolved from the more ambiguous "doost," which literally means friend but also serves as the
basis of weightier words
like boyfriend, girlfriend, and best friend.
So this year, Iranian authorities issued a particularly strict warning against "producing any products related to Valentine's Day, including posters, brochures, advertising cards, boxes with the symbols of hearts, half-hearts, or red roses."
The Islamic authorities' worst fear is being realized in Thailand, where 14 couples from around the world are set to compete in a marathon kissing contest to see who can keep their lips locked the longest.
The event is to challenge a German couple, who last year set the world record of the longest continuous kiss, which lasted over one full day.
"We successfully broke the world's record with seven couples still kissing after 32 hours, 7 minutes, 14 seconds," contest organizer Somporn Naksuetrong told Reuters. "Anyhow, the contest is still continuing, as only one couple will be named as the new record holder. We still don't know how long the contest will last."
A Pakistani Take
Meanwhile, in Pakistan, Valentine's Day draws a mixed reaction.
Young women browse in a shop decorated with Valentine's Day gifts in Peshawar.
"If we look at it from the religious point of view, then it should not be celebrated because this is based on a Christian celebration," says Ajab Khan, a young student at Peshawar's Institute of Management Sciences. "But if you look at it from a different perspective, then I think there is no harm in it because people are happy to go out and give each other presents.
Khan points out that in the English city of Southall, commonly known as "Little India, where many South Asian festivals are held, whether its Eid, the Hindu festival of Holi, or a Christian celebration, "the whole Asian community is happy with it. So why shouldn't we be a part of it as well in Pakistan? I don't think it can harm anyone or will affect our religion.
"In my opinion, it's good to celebrate it and it's not only for couples. You can give presents to your friends, or even give a rose to your mother."
The holiday brings back memories for Maskeen Aka, who lives in the Pakistani city of Karachi. He associates it with an ancient Pashtun custom called "rebaar," in which a messenger would be sent -- usually a child -- with affectionate greetings or to share news between loved ones.
The practice has slowly disappeared in Pakistan thanks to the growing availability of telephones and Internet technology, but Aka sees a hint of it in the observance of Valentine's Day.
"I am almost 50 years old now," he says. "I have also done [rebaar] for some time. Rebaar means to ask about one's health. In old times, life was very simple and there were no letters or telephones. So it was used to find information, and there would occasionally be messages sent back from the other side, and that was how it came into being."
'No Life Without Love'
In Central Asia, Valentine's Day is a new holiday there because it was not observed under the former Soviet Union.
These countries tend to take a more pragmatic approach, with flower shops and candy stores upping their prices today in Kyrgyzstan and Tajikistan.
A Kyrgyz student, Ermek, explains his reasons for observing the holiday while buying flowers for his girlfriend at a Bishkek market, saying, "We need such a holiday, a day of love."
"If people don't love each other, how will they get married? There is no life without love," Ermek says. "I know my girlfriend loves roses, and that's why I'm buying them."
It seems that regardless of what countries celebrate the controversial Valentine's Day, love is what makes the world go 'round.
Maliha Amirzada of RFE/RL's Radio Mashaal, Ferial Hussain of RFE/RL's Radio Free Iraq, and Venera Djumataeva of RFE/RL's Kyrgyz Service all contributed to this report