Pakistan's civilian government has reiterated its commitment to the global fight against extremism, while the country's intelligence community has expressed "embarrassment" over its failure to detect the presence of world's most-hunted man on Pakistani soil.
But the delayed reactions to the assassination of Osama bin Laden on May 2 have not stemmed the wave of criticism and skepticism coming from home and abroad when it comes to Pakistan's worth as an ally.
In the coming weeks and days, observers will be keenly watching whether Islamabad moves toward stemming global jihadism on its soil, or continues with what its critics call a duplicitous role as an ally of Washington even as it harbors some of its most dangerous enemies.
Bin Laden's death has echoed in Pakistan's national and provincial legislatures. Leaders of secular political parties have expressed their joy over his killing, while Islamists have called it a sign of U.S. encroachment on Pakistani sovereignty. Such arguments are expected to become increasingly bitter in the media and political discourse, but politicians are unlikely to be the real decision makers.
Regional specialists agree that the country's powerful military leaders will ultimately define its destiny. The big question before them will be the course of Pakistan's future relations with Washington and the West, and their actions are likely to shape the answers.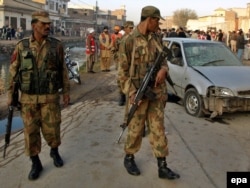 Pakistani soldiers inspect the scene of a bombing in Peshawar. Have 10 years of violence been for naught?
General Talat Masood, a septuagenarian former army general and an influential analyst, says that the capture of bin Laden exposed contradictions in Islamabad's struggle against extremists. He says any contradictions would neutralize the efforts and sacrifices the country's security forces made against Al-Qaeda and its local allies.
"There is no other choice left except to face very squarely all the militant organizations and be as transparent as possible and take the people in confidence, or then alienate the rest of the world," Masood says. "So I think there is no choice whatsoever."

A Lost Decade For Pakistan
Nearly 10 years ago, Islamabad faced a similar situation in the aftermath of the September 11, 2001, attacks in New York and Washington. Its leader at the time, military dictator General Pervez Musharraf, publically sided with the West but radical Islamists multiplied under his watch. Critics accused him of duplicity and double-dealing.
More than 30,000 Pakistanis, most of them civilians, have died in hundreds of terrorist attacks and numerous large-scale operations against extremists over the past decade. Bin Laden's death in a garrison town and a short walk from the elite military officer-training academy has provoked great suspicion of Islamabad's complicity in sheltering bin Laden. Pakistan claims to have sacrificed the lives of more than 3,000 soldiers and officers in fighting the followers and allies of bin Laden.
Specialists say the military continues to manipulate strategic decision-making in the nuclear-armed Muslim state of 180 million. The anemic civilian coalition government voted into power in 2008 has been unable to change the historic pattern of military domination in Pakistan.
The generals in Islamabad once again face stark choices.
Abdul Hameed Nayyar, a former physics professor and peace activist, says that the death of bin Laden will have far-reaching consequences for Pakistan's domestic and foreign policies. Keeping in view Pakistan' complex regional engagements during the past three decades, Islamabad, he says, will be pushed to redefine its relationship with the jihadists.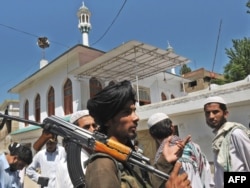 Will Pakistan's attitude toward Islamic extremists change?
Nayyar says that Islamabad's recent dealings with the extremists have been muddy. It went on all-out offensives against the Pakistani Taliban but turned a blind eye to groups like the Afghan Taliban. He says the country is likely to continue with the pattern of treating jihadist forces as assets -- sometimes used as proxies, and on other occasions as bargaining chips.
"It has many Al-Qaeda operatives working in Pakistan, who are wanted by the United States, as assets. It has [the] Haqqani group and Afghan Taliban as an asset, which Pakistan would not like to sell but would like to keep supporting for an eventual victory in Afghanistan," Nayyar says. "And it has Lashkar-e Taiba as an asset, which it can use to twist Indian arms whenever it needs to. I think that essentially defines the attitude of Pakistan."

Which Way Will Military Go?
Pakistani officials have made a visible effort to counter such concerns. In an unusual move, the country's main intelligence agency, the Inter-Services Intelligence Directorate (ISI), organized a media briefing on May 3. "The compound was not on our radar, it is an embarrassment for the ISI," a spokesman told journalists.
In an op-ed published in "The Washington Post" the same day, Pakistani President Asif Ali Zardai expressed his "satisfaction" over the killing of bin Laden. "We have not yet won this war, but we now clearly can see the beginning of the end, and the kind of South and Central Asia that lies in our future," he wrote.
And speaking to journalists in Islamabad, Salman Bashir, Pakistan's most senior diplomat, touted the official line: "This issue of the Osama Bin Laden is history. And I think we do not want to keep ourselves mired in the past. Pakistan has sacrificed immensely in this campaign against terrorism."
In parts of Islamabad and the military headquarters in nearby Rawalpindi, the deck is being shuffled for a new game. Security analyst Ayesha Siddiqa says that some Islamist political parties are already putting pressure on the elected civilian government. They want to save the military from embarrassment over its failure to hunt down bin Laden.
She says that the deeper question now is to gauge the extent to which Pakistani extremist organizations, mostly allies of Al-Qaeda, have penetrated the country's security institutions.
Siddiqa says that some Pakistani media are already questioning the veracity of U.S. claims about the operation to kill bin Laden. She sees no change in Pakistan's orientation in the short term and wants to closely watch its powerful military's move in the next couple weeks to determine its future course of action.
"Theoretically there is an opportunity. Practically there isn't any," Siddiqa says. "I don't think they have the will as yet to start looking inside the organization, especially when the army itself feels that it is above-board and above accountability. They may not do it."