White House Welcomes Yemen Power Transfer Plan As Protests Continue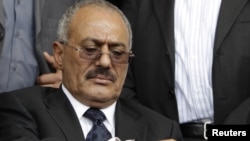 The United States has welcomed the announcement that Yemen's President Ali Abduallah Saleh is willing to transfer power.
The White House said it supported "a peaceful transfer of power in Yemen that is responsive to the aspirations of the Yemeni people."
On April 23, a senior aide said President Ali Abdullah Saleh had agreed to a power-transfer plan brokered by the Gulf Cooperation Council (GCC).
Washington has urged all sides to "swiftly" implement the initiative.
Saleh's announcement follows two months of antigovernment protests demanding his ouster. The president, who has ruled the tribal nation of 23 million people for more than 30 years, had earlier refused to step down.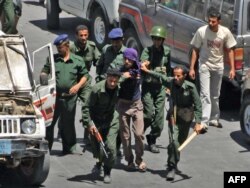 Yemeni security forces arrest a young protester during antiregime demonstrations, which have rocked the country in the past two months.
At least 120 demonstrators have so far been killed in a government crackdown against the youth protest movement inspired by the Arab rebellion. The protestors accuse the president and of corruption and mismanagement in the Arab world's poorest country.
"The president [Ali Abdullah Saleh] and the [ruling] GPC party agree with this initiative and with all its points, which will be in accordance with the constitution." Deputy Information Minister Abdoh al-Janady announced on April 23, adding that the president would submit his resignation to members of the country's House of Representatives.
It's not clear whether all protesters will accept the offer.
A major opposition coalition said on April 23 that it would now agree to the main elements of the plan, after previously rejecting the idea of immunity for Saleh.
But protest organizers issued a statement on April 24, demanding that Saleh step down immediately and that he should face prosecution. Media reports also suggest that youth protests are still being held across the country.
The plan was drawn up by the GCC grouping of Gulf Arab states including Saudi Arabia. It proposes that Saleh hand over power to his vice president a month after an agreement is signed with the opposition, and that he be granted immunity from prosecution.
This immunity would also apply to his family and senior aides. The plan calls for a presidential vote within two months of Saleh's resignation.
Plan Is 'Last Chance' For A Smooth Transition
Al-Janady said the initiative will be signed by witnesses from the GCC, the U.S. and the European Union.
He rejected the possibility of President Saleh backing out of the possible deal, but added that "without this international pressure" Saleh would "not have agreed to a resignation after having been elected president."
Al-Janady also called on the opposition to accept the offer, saying that it was a last chance to sign a "final agreement that will actually keep unity and democracy, and is conducive to the peaceful and smooth transition of power."
After years of backing Saleh as a bulwark against instability and the activities of Al-Qaeda's active Yemeni branch, powerful neighbor Saudi Arabia and main international backer Washington have recently begun pressing Saleh to negotiate a transfer of power.
His downfall will presumably increase pressure on other authoritarian regimes in the region, most of whom are still resisting reforms or actively crushing domestic rebellions.
compiled from agency reports