On first glance, it looks like an archetypal no-brainer; a large Middle Eastern country with a repressive regime and a simmering, angry protest movement.
Twice in the past fortnight, that movement -- encouraged by events in Egypt, Tunisia, and elsewhere -- has come out of hibernation to stage its first demonstrations in a year, albeit only to be met by crushing crackdowns.
Yet surely it's only a matter of time before Iran is afflicted by the wave of revolt that has shaken the Arab world.
Closer inspection, however, suggests the assumption may be wishful thinking on the part of the Islamic republic's adversaries.
Indeed, rather than awaiting its turn to be overthrown, Iran's theocratic regime may already have proven itself stronger than many of its Arab counterparts when it successfully snuffed out the mass protests over President Mahmud Ahmadinejad's bitterly disputed reelection in 2009.
Far from showing signs of panic, the Iranian authorities have publicly hailed the Arab rebellions as a vindication of the 1979 Islamic Revolution that brought them to power. Ahmadinejad gave voice to this confidence on February 23 when he condemned the brutal attempts of the Libyan leader, Muammar Qaddafi, to suppress the rebellion against his rule and called on leaders in other Arab states to listen to their people.
"I seriously want all heads of states to pay attention to their people and cooperate, to sit down and talk, and listen to their words. Why do they act so badly that their people need to put pressure on for reforms?" he told a news conference in Tehran.
Opponents will dismiss the Iranian president's words as bravado laced with hypocrisy. The regime, after all, used fearsome violence to put down the 2009 postelection unrest and has intimidated the opposition with mass arrests, show trials, and lengthy jail sentences. Yet despite the existence of widespread opposition, the current Islamic system appears secure, raising the question of why the Green Movement -- led by failed presidential candidates Mir Hossein Musavi and Mehdi Karrubi -- failed while mass Arab protests are succeeding.
Michael Axworthy, director of Persian and Iranian Studies at Exeter University in England, says the answer lies in Iran's revolutionary heritage bequeathing it a stronger state than its Arab neighbors.
"There's a quotation from [Albert] Camus where he says: 'All modern revolutions have ended in a reinforcement of the state,'" Axworthy says.
"I think the regime in Iran is quite strong. It's quite practiced in repression and it's used to dealing with opposition and securing its position through repression. It's very difficult to say which proportion of the population is on which side but there's a significant minority at least who do actually support the regime and who do support Ahmadinejad. So it's not simply a question of the people against the government, which it has been in many of the places where we've seen governments fall over the last few weeks."
A Ruthless Opponent
The result, says Ali Ansari, professor of Iranian studies at St Andrews University in Scotland, is that Iran's opposition will be unable to achieve the same rapid transition attained by demonstrations in Tunisia and Egypt.
"The opponent they're facing is a good deal more ruthless and much more embedded," Ansari argues.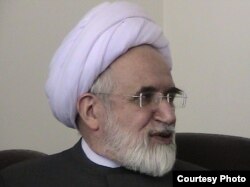 Karrubi: 'part of the system'
"I don't think that we should get carried away with the notion that what you are going to see in Iran is a rapid collapse because the people in power know that they can't afford to lose, on pain of death almost. They know they are in a very besieged and beleaguered position. That is going to make them want to fight all the harder to stay in place. This sort of peaceful transition -- I think many people in Iran would like to see that. I think it will be difficult to manage that. It will be a slow burner. People have said that it may have been a sprint in the Arab world. It's going to be a marathon in Iran."
A further source of regime strength, analysts say, is Iran's alienation from the West -- allowing figures such as Ayatollah Ali Khamenei, the supreme leader, to ignore Western criticism over human rights abuses.
At the same, the system is gaining sustenance from an revolutionary religious ideology fervently believed in by a section of the population and members of the security forces, such as the volunteer Basij and the Islamic Revolutionary Guards Corps (IRGC).
Suzanne Maloney, a senior fellow and Iran analyst at the Brookings Institution, has pointed out that Ahmadinejad's recent replacement of state subsidies with cash handouts could ease Iranians' economic grievances while stabilizing Iran's economy over the long term.
"If Iran is able to make this transition successfully, and eliminate some of the very costly subsidies that have been a drag on the economy, it would have a very powerful effect on the economy and on the political stability of the regime," she said in an interview with the Council on Foreign Relations website.
Further complicating prospects for change is the continued loyalty of Musavi and Karrubi to the Islamic system, despite apparently being put under house arrest after calling the protest that was staged by their supporters on February 14. That, says Axworthy, keeps alive slim hopes that a compromise can be reached between regime hardliners and the pro-reformist Green Movement.
"I think it is possible, [although] it's on the outward margin of the possible," Axworthy says.
"I say that largely on the previous behavior of the main actors on the hard-line side, Khamenei and Ahmadinejad. However, what you don't have, at least yet, in Iran is the kind of mass bloodshed that creates an impossible barrier and makes any reconciliation impossible. The leaders of the Green Movement are part of the system -- Musavi a former prime minister, Karrubi having been important within the system as well, and many other supporters like [former President Mohammad] Khatami having been holders of high office."
Yet none of this eliminates the possibility that sudden political change might yet come to Iran. The concerns of the opposition -- such as lack of basic freedoms, economic woes -- are similar to those that have animated the Arab world. Additionally, Ansari notes, the Islamic system is beset by "a profound religious crisis" that has seen senior clerics reject Khamenei's vision of a "religious quasi-monarchy" and left many devout Iranians alienated by the government's behavior.
The regime's preoccupation with survival, says Mehrdad Khonsari, senior research consultant at the Center for Arab and Iranian Studies in London, has left it with little political capital among the population at large and scant support outside its natural constituency.
"Irrespective of how helpless the Iranian people may seem in trying to acquire what they ultimately want, it is impossible for the regime to ever regain the confidence, trust and popularity amongst the general population," Khonsari insists.
"It's a dying battle for them. It's just a matter of time and I think that once they realize that no matter how much violence they resort to, nothing is going to make a difference, they just like other dictatorships in other parts of the world which have ultimately succumbed to the will of the people will have no alternative but to let go."