Two decades ago, Kyrgyzstan's president entered a parliament session brandishing what he felt was the key to the future -- a bar of gold that had come from one of the country's own mines.
Much has been done to help develop Kyrgyzstan's gold-mining industry in the 20 years since President Askar Akaev first took a shine to the idea.
More than 220 goldmines are operating in the mountainous country today, according to Zamirbek Esenamanov, Kyrgyzstan's natural-resources minister.
The industry contributes some $120 million per year to state coffers, Esenamanov says, which accounts for about 15 percent of Kyrgyzstan's GDP and about 40 percent of its exports.
With gold prices soaring, that figure is expected to increase to $175 million in 2011, the minister notes, and the expansion of mining operations will push the amount to $350 million next year.
Kyrgyzstan sits on more than 2,000 tons of gold -- the third-largest supply of the precious metal among all former Soviet states, and second only to Uzbekistan in Central Asia.
Poverty And Rampant Unemployment
With gold prices at an all-time high at around $1,800 per troy ounce, Kyrgyzstan's deposits are enough to provide each of the country's 5.5 million citizens with just under $22,000.
The possibilities, however, have done little to change the lives of ordinary Kyrgyz who struggle with poverty and rampant unemployment, and bring home an average salary of between $150 and $200 a month.
"After independence there was much talk about how our gold deposits would improve our lives, they would make us rich, but it didn't happen," says Anara Dautalieva, head of Taza Tabiyat, an NGO that campaigns for environmental issues and promotes transparency in the mining industry.
Kyrgyzstan has seen two revolutions in the past six years -- one leading to Akaev's ouster in 2005 and another that pushed his successor, Kurmanbek Bakiev, out of office in 2010.
The political turmoil has compounded the country's economic woes, which in turn has led to resentment against those perceived to be stealing its wealth.
In the case of the Kyrgyzstan's goldmines, the finger is pointed most often at corrupt government practices and foreign investors.
"People sacrifice a lot for the gold mining industry," Dautalieva says. "Most of the mines are located in densely populated areas. It damages their environment. People have to give up land they use for farming."
Anger Is Boiling Over
Discussing the rising number of protests against mining operations in recent weeks, Dautalieva believes people want to see evidence that the government's efforts to attract foreign investment are paying off for them, too:
"Perhaps if Kyrgyzstan got good profits from the contracts with foreign companies, we wouldn't see these [angry protests] because our people, too, could count the money," she says. "Everybody understands the need to develop our mining industry. People are also [telling the government] 'to build roads for us, build water pipes, renovate our schools,' and most importantly, 'don't mess up our environment.'"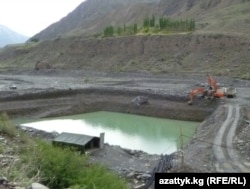 The environmental impact of goldmines has drawn the ire of many Kyrgyz.
In one recent example of growing dissatisfaction with the situation, in the village of Emgegchil in eastern Naryn Province, people's anger boiled over.
On August 26, some 300 people gathered outside the headquarters of the Chinese-operated Solton-Sary goldmine, assaulted three policemen who tried to persuade them to disperse, and then beat up three Chinese miners.
"People are frustrated with a lack of jobs and with poverty, when a lucrative source of income right under their noses goes to foreigners," says Berdibek Dairov, a resident of Emgegchil who is critical of the fact that the mine's owners have hired Chinese instead of locals to work for them.
"Why should only the Chinese come and work here?" he asks. "Why can't Kyrgyz get that job? Our demand is that the Chinese must go. Kyrgyz guys have to work here. If the Chinese must work here, then [authorities] have to hand over the mine to local companies for developing. Then Chinese workers can work for us."
According to Taza Tabiyat's Dautalieva, discontent is evident throughout the country.
"People are disappointed," she says, singling out foreign investment in the country's largest mine as an example. "Their hopes about the benefits of Kumtor and other goldmines have not materialized."
Selling The Country's Future
The Canadian-operated Kumtor mine, located in the north-eastern Issyk-Kul province, boasts estimated deposits of at least 700 tons of gold.
Since gold production begun in Kumtor in 1997, more than 250 tons of gold have been extracted from the mine. Since the beginning of this year, output in Kumtor has reportedly increased by over 15 percent.
If some of the profits were intended to trickle down, however, locals say they haven't seen it since Centerra, a Canadian-based gold-mining and exploration company, bought the exclusive rights to gold production in 1992.
After widespread criticism and public pressure, Kyrgyzstan signed a new contract with Centerra in 2009, transferring 33 percent shares of Centerra to the Kyrgyz government.
Critics, however, still insist Bishkek should revise the agreement once more to further increase its share.
Kumtor did not respond to RFE/RL's request for an interview to tell its side of the story and to explain its financial arrangements and local hiring practices.
But in the case of Kumtor and other mines, the general sentiment among Kyrgyz is that officials sold away the country's future by granting mining licenses.
"People want the government to listen to local residents, and have their best interests at heart when deciding about gold-mining contracts," says Dautalieva. "People believe it's their right."
Government Promises
In a bid to fight corruption and to limit presidential authority, the new government that came to power last year changed the country's political system from a presidential to a parliamentary one.
Addressing the public outcry over corruption, Prime Minister Almazbek Atambaev this month promised "full transparency" in dealings with foreign investors.
Natural Resources Minister Esenamanov also said the new government is determined to "put things right" in response to protests over the country's gold wealth
"A new proposal on foreign investment in the mining industry is to be discussed at a government meeting," he says. "[The proposal] stipulates that any foreign company investing in our mining sector is not allowed to own more than 57 percent of shares. The government should always control at least 43 percent."
That is just one of the steps being taken to assuage the public. A parliamentary commission has been set up to review the existing contract with Centerra on the ownership of the Kumtor goldmine.
And last week authorities announced that over 25,000 new jobs would be created in the gold-mining sector between 2012 and 2014 when extraction begins at several newly developed goldmines.