To critics of Uzbekistan, it was a disturbing phone call, disturbingly timed.
The White House on September 28 confirmed that U.S. President Barack Obama had earlier in the day telephoned Uzbek leader Islam Karimov to congratulate his country on 20 years of independence.
The phone call came nearly a month after the actual anniversary at the beginning of September, when Obama sent Karimov a
commendatory letter
, in which he said he looked forward "to developing even closer ties between our nations."
The belated phone call, however, fell on the same day that human rights organizations publicly urged the U.S. government not to proceed with a plan to restore military assistance to Karimov, who is accused of torturing perceived political opponents and turning a blind eye to the widespread use of child labor in the country's lucrative cotton industry.
It also comes at a time when Washington's bitter dispute with Pakistan is forcing it to reconsider its strategic alliances in the war in Afghanistan.
Lilit Gevorgyan, a Russia and CIS analyst for Jane's Information Group, suggests the United States is now looking to northern supply routes in Central Asia to bypass or entirely replace the southern Pakistani corridor as the main channel for supplying the Afghan campaign.
Political Realities Forge Uneasy Friendships
"Of course, with the troubles in Pakistan, the U.S. and NATO-led forces are looking for alternative options," she says. "In recent years, we've seen gradual deterioration of the safety and reliability of the Pakistani route, and obviously this makes the U.S. and NATO revisit the options in Central Asia."
The political realities presented by the ongoing row with Pakistan over its alleged complicity in Afghan terror attacks are not the first time that the U.S. has found itself forging uneasy friendships as a result of the war on terror.
After the 9/11 terror attacks, the U.S. government in late 2001 opened military bases in Kyrgyzstan and Uzbekistan to help support its war in Afghanistan. After meeting Karimov in February 2004, then-Defense Secretary Donald Rumsfeld praised the blossoming partnership, and dismissed concerns about Uzbek human rights, saying Washington's relations could not be based on a "single pillar."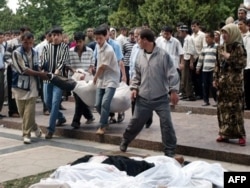 Local residents carry the body of a victim killed in a brutal crackdown by government forces on protesters in the Uzbek town of Andijon in 2005.
But the open brutality of the 2005 Andijon massacre forced a rethink in U.S. policy. After calling for an international investigation into the incident, Washington was asked to vacate its Uzbek base at Karshi-Khanabad. Now, with the Pakistan relationship in tatters, Gevorgyan says Uzbekistan is regaining its appeal.
"At the moment, the U.S. hasn't got a base in Uzbekistan, so in comparative terms, neighboring Kyrgyzstan is much more important," she says. "However, in terms of potential, [Uzbekistan] is quite important. Compared to the [Manas] military base in Kyrgyzstan, it offers better conditions, because it offers an overland route to Afghanistan, and the transportation costs will be significantly less compared to the current terms in Kyrgyzstan."
Moving Toward A 'Multidimensional Relationship'
The United States must come bearing gifts before it can proceed with any reactivation of its Uzbek supply activities, however.
Accordingly, an appropriations committee in the U.S. Senate last week approved a motion to lift human rights restrictions that currently prohibit the United States from offering military assistance to the Uzbek government.
That motion will now become part of a broad foreign operations bill set to be voted on later this year.
The Obama administration has already called on Congress to support the waiver. (In perhaps an unwitting echo of Rumsfeld's remarks, the White House said Obama and Karimov in their phone conversation discussed their shared desire for a "multidimensional relationship.")
It is not clear what Uzbekistan would do with U.S. military aid. Tashkent has done most of its military spending with Moscow, buying $300 million worth of Russian-made equipment in the past decade.
But Gevorgyan says the United States is likely to make any aid conditional on its being spent on U.S.-approved equipment, and that Washington would be likelier to support the purchase of infantry weapons and armored personnel carriers, which could be used to support Afghan-supply efforts, rather than the air force upgrades and missile delivery systems that Uzbekistan craves.
Human Rights Vs. Military Concerns
Twenty rights organizations, including Human Rights Watch, Amnesty International USA, and the International Labor Rights Forum on September 28 signed a letter to U.S. Secretary of State Hillary Clinton asking her to put human rights before military concerns. The letter "strongly" urged Clinton "to oppose passage of the law and not to invoke this waiver."
In addition, some 60 activists staged a protest the same day outside a Washington business forum sponsored by the American-Uzbekistan Chamber of Commerce.
But Clinton's response, which came a day later, may not have been what the signatories were looking for.
Speaking to reporters on September 29, the secretary of state reiterated Obama's appreciative comments and said the U.S. "values" its relationship with Uzbekistan.
"They have been helpful to us with respect to the northern distribution network," she said. "They have also been helpful with Afghanistan in terms of reconstruction. They are deeply involved in assisting Afghans and the Afghan government to try to rebuild and make Afghanistan a more prosperous peaceful country."
Outside government circles, however, the protest movement against Karimov's regime has been gradually gaining strength. More than 60 prominent clothing labels have pledged to boycott textiles made with Uzbek cotton, which is often harvested using the forced labor of children as young as 10 years old.
Karimov's daughter, Gulnara, was prevented from showing her new line of designer clothing when organizers of New York Fashion Week bowed to pressure from activists and barred her from participating. She later
showed her wares
at an alternative, invitation-only location.
Miriam Saage-Maass of the Berlin-based European Center of Constitutional and Human Rights, one of the signatories of the letter to Clinton, says European and American governments alike have an obligation to acknowledge human rights violations in the countries where they seek to do business.
At the same time, she acknowledges many countries, including Germany, have vested interests in Uzbekistan and are not always willing to back up their stated commitment to human rights.
"The German military has their main base for supplies to Afghanistan in Uzbekistan," she says. "And that is oftentimes used as an excuse for why they could not strongly oppose policies and other human rights violations in Uzbekistan. We don't think human rights issues should be less important than economic and military interests."