Rapidly escalating street battles between opponents of Yemen's regime and forces loyal to its embattled president spread today to the home districts of senior government officials in Sanaa.
At least six people were killed in Yemen's capital on September 20, including two killed by a rocket attack on an opposition protest camp at so-called Change Square, the plaza occupied by demonstrators since the uprising against President Ali Abdullah Saleh's regime began in February.
The latest deaths raise to more than 70 the number of people killed since violent clashes began on September 18.
Correspondents say a key military unit that defected to support the protesters is being drawn deeper into fighting against government troops. Pro-Saleh forces responded with attacks by rooftop snipers and by shelling protest encampments in Sanaa.
Earlier September 20, protesters and soldiers who defected to the opposition reportedly overran a base of the elite Republican Guard in Sanaa.
Reports say troops in the Republican Guard fled the base without firing a shot, leaving their heavy weapons behind.
Crimes Against Humanity
The storming of the base comes after Saleh's security forces late on September 18 began firing live ammunition -- including antiaircraft guns, rockets, mortars, and automatic assault rifles -- into a crowd at a mass demonstration against Saleh's regime.
Soldiers who defected to the opposition say Saleh and his military commanders should be put on trial for crimes against humanity. They have been calling on pro-government troops to join the opposition.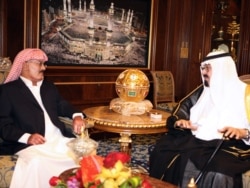 Saudi Arabia's King Abdullah bin Abdul Aziz (right) meets with Yemeni President Ali Abdullah Saleh in Riyadh on September 19.
Violence also has spread to other cities in Yemen. At least one protester was killed on September 19 and several wounded in the southern city of Taiz during clashes between demonstrators and security forces.
More than 53 people have been killed since the escalation of violence in the eight-month uprising against Saleh's rule.
Hundreds of people have been injured and taken to hospitals, including many protesters who were being treated at a mosque that has been transformed by doctors into a makeshift field hospital near the protest camp at Change Square.
Tareq Noman, a doctor, says Sanaa's hospitals are now overflowing with protesters who have been injured by bullets and shrapnel.
"The main problem is we do not have enough hospitals. The five hospitals that we had are filled with patients. Operating rooms are also full," Noman said. "The second problem is a decrease in medical supplies and medical disposables carried out to the field hospital. Unfortunately, the government forces prevented medical supplies from reaching the field hospital."
'Concealing The Truth'
Among those injured in the violence on September 19 was television cameraman Hassan al-Wadaf. The injuries he sustained when struck by a sniper's bullet has raised complaints from other journalists, like Hatab al-Rwhani, who say the government is trying to suppress reports about the violence.
"The crime that took place -- targeting a journalist and cameramen -- is an attempt to conceal these crimes committed by this regime," Wadaf said. "And they think that concealing the truth by killing journalists and photographers could relieve them of legal accountability."
President Saleh is currently in Saudi Arabia where he went for medical treatment after being injured by an attempted assassination in June. Saudi Arabia's King Abdullah met today with Saleh to discuss the escalation of violence.
The meeting was the first between Saleh and King Abdullah since Saleh arrived in Saudi Arabia.
Meanwhile, a UN mediator and the secretary-general of the Gulf Cooperation Council -- a grouping of Yemen's Gulf neighbors -- are in Sanaa to try to mediate an end to the crisis.
compiled from agency reports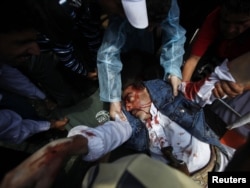 Medics carry an antigovernment protester injured during clashes in Sanaa on September 19.