Bullets whistled past Yemeni doctor Hamza al-Shargabi as he stood among a crowd of antigovernment demonstrators in Sanaa on March 18. Horrified, he watched as bodies began to drop around him.
"Head shots, neck shots, chest shots. Everything was like in the upper body," Shargabi recalls. "They were shooting those people to kill them. ...It's beyond words."
Rights activists say more than 50 people were killed that day, one of the single bloodiest days since demonstrations began in February to demand the end of President Ali Abdullah Saleh's 32-year rule.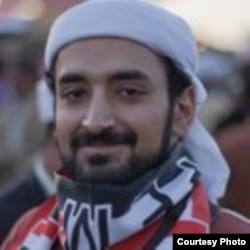 Dr. Hamza al-Shargabi
But it was a 22-year-old survivor who left a lasting impression on Shargabi. He says he and a fellow doctor worked furiously to try and save the victim.
"He lucked out of the whole situation, with basically no major injuries, even though he had two bullets running through his chest, in and out," Shargabi says. "And it was funny that I was trying to convince the family that he's all right, and they're doubting my story. It's like, well people, what can I do for you? I'm bringing him out in a second, and you can talk to him very soon! So the kind of shock, the kind of happiness that they were in was indescribable.
"We had all sorts of situations during that day, from people not believing that they had lost loved ones and people, as well, not believing that they would see their loved ones [ever] again."
Makeshift Hospital
Shargabi treated his first wounded protester back in February, when demonstrators began camping out in the city's University Square -- nicknamed Change Square.
Protesters were attacked by security forces every few days, so Shargabi and a group of doctors set up a makeshift field hospital in a nearby mosque.
The doctor, who declined to give his age, calls the violence being used against protesters "surreal," comparing it to "documentaries we see about Czechoslovakia and Hungary during the communist crackdown on them."
Despite the risks, Shargabi says he continues to take part in demonstrations because he cannot turn his back on the courage he witnessed that day in March.
"I was, basically, very proud of those who -- basically, those were civilians who had nothing on them. They attacked the snipers and they took them into custody to save everyone else," he says. "So we owe our lives to those who ran, while they had nothing on them, to put those snipers down. So I was, at that moment, I was feeling very proud of them. I was feeling that I have more burden on me to finish what they have died for."
Shargabi is not formally allied with any specific opposition party but closely follows events in the country on his blog
"Late Night Surgery."
The blog, written variously in Arabic, English, and German, describes itself as commentary on "surgery to poetry, through politics and arts," and lately features a number of videos taken of the unrest. He also tweets regularly about the unrest at
@ichamza
.
'We Don't Want A Chair Game'
Born and educated in Yemen, Shargabi's Facebook profile displays interests that range from Al Gore's "Assault on Reason" to Steve Jobs, to the pro-Palestinian cartoonist Naji al-Ali. His status on the popular social networking website on June 8 warned, "Heavy shooting all over Sanaa."
Shargabi was among a crowd of protesters beaten in Sanaa as recently as June 8. They had been sitting for 21 hours outside the vice president's home to press for a new transitional presidential council before security forces cut short their planned daylong protest.
"This is not a political maneuver for us," Shargabi says. "We want the regime to be changed. We don't want just a chair game, where faces change while everything stays the same. And all of a sudden we found the army forces just attacking us."
The June 8 protest pressed for a transitional arrangement to fill the power vacuum left by Saleh after his departure to Saudi Arabia on June 3 for medical treatment following an attack on the presidential palace.
It is not clear who has power in Yemen in Saleh's absence. Tribal militias have recently challenged the government's authority, adding a new layer of complexity to the uprising. Some have speculated that the turmoil could lead to civil war.
Shargabi rejects such reports.
"There is more to the story of Yemen than the word 'civil war.' There is more to the story of Yemen than the caricature image that is being portrayed, always and always, through the mainstream media," he says. "There is a nation here that wants freedom, that wants prosperity, and who is not really interested in wars. And portraying Yemen through Al-Qaeda story is not only short-sighted, but I start to consider it racist as well."
Still, when it comes to the daily lives of protesters in Yemen, Shargabi says he believes the problems are more practical than overtly political.
"The problem is, Ali Saleh and his cronies are trying to inflict tension through media, through daily life necessities, like electricity, like water, like petroleum products," he says. "Now, for example, here you cannot get your car filled unless you stand in the line for about four or five hours. And that's becoming longer and longer. So they are trying to put people in a point where everyone is stressed out and something might happen. But could it slip into civil war? No, that's not going to happen."
Whether or not Shargabi has correctly diagnosed his country remains to be seen, but the international community can only hope he's right.