Saturday was bath day at the Lukyanivka detention center in Kyiv, a rare opportunity for the building's female residents to leave their cold-water cells to shower and wash their hair.
It's now been five days since bath day -- about the time that many detainees, and their guards, might be looking forward to their next trip to the showers.
But at least one of Lukyanivka's detainees seems impervious to grime. Former Prime Minister Yulia Tymoshenko
today appeared in court
dressed in her customary spotless white, with her gleaming braid crown neatly in place and showing no signs of the rigors of prison life.
Tymoshenko was placed in detention late on August 5 after the judge overseeing her trial on a controversial gas deal agreed with prosecutors that her rebellious behavior in his court amounted to contempt.
Since then, the 50-year-old ex-premier has resided in Lukyanivka's cell No. 242 -- watching television, chatting with her cell mates, and by most assessments doing a formidable job of keeping up appearances.
Ukraine-watchers speculated that President Viktor Yanukovych might have been hoping the jail sentence would mute his provocative rival, who narrowly lost the presidency to him last year.
Instead, cell No. 242 -- which Tymoshenko first occupied for 43 days in 2001, when she was accused of forging customs documents and smuggling gas after falling out with then-President Leonid Kuchma -- is beginning to look like the staging ground for an unbeatable political comeback.
'She Sits Like A Queen'
Journalists, TV cameras, and ordinary voters are all glued to the story of Tymoshenko's seemingly superhuman resilience in the face of conditions that include smoking cell mates, lack of access to visitors, and a less-than-private toilet.
To be sure, Tymoshenko -- who earned millions as a businesswoman before turning to politics as the heroine of the 2004 pro-democracy Orange Revolution -- is enjoying a better class of prison life than most Lukyanovsky residents.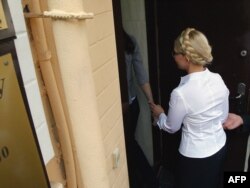 Tymoshenko was placed under arrest on August 5 after a judge agreed with prosecutors that her rebellious behavior amounted to contempt.
At nearly 17 square meters, cell No. 242 is more than twice the size of an ordinary three-person prison room. It reportedly has a large window (160 by 120 centimeters) and comes outfitted with a refrigerator and a small television.
Prison officials have explained, somewhat apologetically, that while there is no bidet, Tymoshenko has access to a "flushable" toilet that is separated by a fixed partition rather than a curtain. Perhaps most importantly when one is in the braid business, the room has been pronounced lice- and insect-free.
"Tymoshenko doesn't have to worry about pediculosis," Ukrainian newspapers quoted an unnamed prison official as saying. "She doesn't give the impression of a person who is being psychologically broken...She behaves simply, naturally. She watches television. She sits like a queen, with her head held high."
Prison guards have also reportedly allowed Tymoshenko and her two white-collar cell mates -- a former city administration worker and a onetime member of the Finance Ministry -- to cook for themselves. Tymoshenko's mother has delivered tea, cheese, bread, cookies, dried fruit, and yogurt to her daughter in the detention center.
(Family members have expressed concern that the lithe party leader is not getting enough to eat. But an RFE/RL correspondent who once spent a day on the campaign trail with Tymoshenko noted he saw her ingest only a single cup of coffee per day, feeding speculation that the driven ex-premier is fueled as much by ambition as by ordinary human food.)
Security Risk
Prison life has also afforded Tymoshenko daily hourlong walks outside and some unanticipated reading time. She has reportedly requested copies of "The War of the End of the World" by Peruvian novelist Mario Vargas Llosa, "IQ84" by Haruki Murakami, and Umberto Eco's "History of Beauty," among other works.
But there have been challenges, as well. Lukyanovsky guards reportedly asked Tymoshenko to hand over her hairpins as a security risk when she first arrived at the center. (The pins were later returned, as evidenced by the presence of Tymoshenko's traditional hairstyle in her subsequent court appearances.)
And at least one of her cell mates was a smoker, a situation which drew cries of protest from human rights activists and Tymoshenko's husband, Oleksandr, who claimed his wife was "allergic" to cigarette smoke. (The smoker later volunteered to quit out of deference to the ex-prime minister, and after a delivery of Nicorette gum from Tymoshenko's family, reports said today.)
Tymoshenko "doesn't give the impression of a person who is being psychologically broken," according to one prison official.
Throughout such trials, Tymoshenko appears to have remained upbeat. A visitor from the Ukrainian ombudsman's office described her as "constantly smiling," and she continues to greet her supporters at Kyiv's Pechersky courtroom with a full-throated cry of "Glory to Ukraine!"
And then there is her appearance, which is virtually indistinguishable from the days and months preceding her arrest. In addition to the immaculate braids and makeup, Tymoshenko -- who requested a tracksuit and sneakers for her prisonwear -- has also been allowed before court appearances to forage into her regular wardrobe for the stylish, light-colored outfits that have become her calling card.
No Customary Iron Cage
Court officials have dispensed with the iron cage customary for jailed court defendants and have even allowed Tymoshenko to appear without handcuffs. For today's appearance, Tymoshenko's husband arrived with an enormous bouquet of white roses, which he hoped could be placed next to Tymoshenko during her trial.
On August 8, Oleksandr Tymoshenko and the couple's daughter, Yevzhenia Carr, petitioned the court for the right to act as Tymoshenko's "moral" defender, which allows for more than a single jail cell visit a month. With such strictly regulated access, it appears likely that Tymoshenko is managing many of her own affairs alone, including her personal upkeep.
One Kyiv-based fashion consultant, who asked to remain anonymous, says Tymoshenko has an "innate" sense of style and has likely had years of practice perfecting her own peasant-style blond braid crown, the hairstyle she has worn since the Orange Revolution. (Tymoshenko, attempting to dispel rumors her braids were fake, once famously unpinned her hair during a session of parliament.)
The consultant says Tymoshenko -- who has championed both Ukrainian designers as well as global stalwarts like Louis Vuitton and Azzedine Alaia -- has become a kind of fashion icon for "independent, self-made" Ukrainian women.
She says many Ukrainians, herself included, would eagerly to vote for Tymoshenko in any future political contest, and that her prison conduct, if anything, has only made her seem more indomitable.
"I like [her style]," the consultant says. "At first, people criticized her for wearing too much lace and frilly things. She came into parliament wearing things that people said were overly feminine. She just ignored the standard dress code. I like people with strong personalities. And I like the fact that she's an intelligent, educated person. Right now, this is the issue for us, because everyone sees that what's going on now is just chaos."