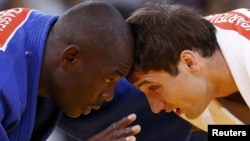 Georgian judo star Varlam Liparteliani is competing in his first bouts at the London Olympics on August 1. Every day, the 23-year-old athlete shares his impressions with RFE/RL's Georgian Service about life behind the scenes at the world's biggest sporting event. These are his impressions from July 31 as he prepared for his first matches.

The fourth day of the Olympics was a bit upsetting for us. To begin with I don't think luck was on [Georgian judoka Avtandil] Chrikishvili's side. He is a very good and successful athlete and he was very well prepared physically, so I think he could have won [his bout on July 31]. But he lost in the second round. I think that sometimes luck is very important in sports. We were all very upset about this and I won't talk about it anymore.

Our tennis player Anna Tatishvili played really well but she lost against Russia's Nadia Petrova, who is much more experienced. It was a very tough match that went to three sets and lasted for about two and a half hours but [Tatishvili] fought until the end. Of course it's sad that she lost and was eliminated, but she did all she could.

[Georgian archer] Kristine Esebua also competed [on July 31] as well and in the first round she defeated last year's world champion, a competitor from Chile. It was a clear victory but in the second round she had a very tough competitor from South Korea who already won a gold medal. So she was competing against an Olympic champion -- she had a very tough competitor and lost, but Kristine can leave the Olympics with her head held high.

The London Olympics also ended for our only swimmer, Irakli Bolkvadze. For him, however, even participating in the Olympics was a huge success in itself.

Anyway, the last day of July was a bit disappointing. What can you do? In sports, as we say in Georgia, "victory and defeat are brothers."

Otherwise, life goes on in the Olympic Village. We got used to life here and we do not feel like strangers anymore.

As for myself, I am preparing for [my matches on August 1] psychologically and physically. I am training very hard, losing weight, and concentrating on [the bouts]. I just finished training and it was a bit of a tough day for me, so now I have to go to bed because I have to wake up at six in the morning and I have to be ready in all respects.

At 10 o'clock I have to face Dieudonne Dolassem from Cameroon. Finally, the Olympic Games is beginning for me as well.

NOTE: Varlam defeated Dieudonne Dolassem in the first round of the 90-kilogram weight category before being defeated in his next bout with Australia's Mark Anthony.