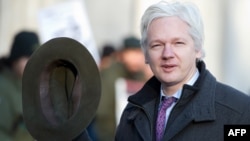 British police on June 28 served WikiLeaks founder Julian Assange with a "surrender notice" requiring him to report to a police station as the first step in his extradition to Sweden to face sex crime allegations.

The letter was delivered to Ecuador's embassy in London, where the 40-year-old Australian has taken refuge.

Police said serving a surrender notice "is standard practice in extradition cases and it's the first step in the removal process." Assange is seeking political asylum in Ecuador in a bid to escape extradition.

He denies the rape allegations, saying the case against him is politically motivated.

Assange says he fears that from Sweden he will be extradited to the United States to face criminal charges for leaking more than 250,000 American diplomatic cables on the WikiLeaks website.

Based on reporting by AFP and AP