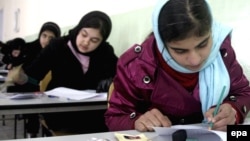 Welcome back to The Azadi Briefing, a new RFE/RL newsletter that unpacks the key issues in Afghanistan. To subscribe, click here.

I'm Mustafa Sarwar, a senior news editor at RFE/RL's Radio Azadi. Here's what I've been tracking and what I'm keeping an eye on in the days ahead.
The Key Issue
The Taliban warned private universities in Afghanistan on January 28 that female students were banned from taking university entrance exams scheduled for later this month. In a letter, the Taliban said any university that disobeyed the order would face "legal action." Around 140 private universities operate in Afghanistan. Of the 200,000 students enrolled in them, up to 70,000 are women.
The Taliban's letter came after it barred women from attending private and public universities in December, in a move that triggered widespread condemnation. Days later, the militants also banned Afghan women from working for local and foreign NGOs. The United Nations and representatives from Western nations have held talks with Taliban officials to convince them to reverse their mounting restrictions on women.
Why It's Important: It appears those diplomatic efforts have failed, with the Taliban doubling down on its ban. In the wake of the Taliban's refusal to budge from its repressive policies, U.S. Secretary of State Anthony Blinken said Washington will "impose additional visa restrictions" on Taliban officials who are "responsible for, or complicit in, repressing women and girls in Afghanistan."
Scores of Afghan female students and women's rights advocates have expressed dismay at the Taliban reinforcing its university ban. "This conveys destructive messages to society and the women and girls who were denied the right to education and work," Sonika, a women's rights activist in Kabul, told Radio Azadi. "A dark future awaits the women of Afghanistan."
What's Next: It appears unlikely that the Taliban will overturn its recent restrictions on women's rights, despite a local and international outcry. The militants are more likely to continue enforcing more repressive measures against women. The Taliban's war on women's rights is likely to further isolate its government, which remains unrecognized by any country in the world.
The Week's Best Stories
Hundreds of Afghan military officers were sent to India for military training in 2021. But after the Taliban toppled the Western-backed Afghan government, many have remained stranded in India, where they are on temporary visas and ineligible to work or receive government help. Officers who spoke to Radio Azadi said they fear returning to their homeland even as they live in dire conditions in India.
A group of young Afghan women have arrived in Central Asia to study at local universities on European Union-funded scholarships. It is part of a project launched in 2019 to bring hundreds of Afghan women to study abroad and return to their home country as skilled specialists. But with the hard-line Taliban in power, the project and the students' futures are unclear.
What To Keep An Eye On
Iran has announced that it will build a trade center in Afghanistan as it looks to expand trade and business ties with the Taliban. Iran's Deputy Minister for Industry, Mining, and Trade Seyyed Mohammad Musavi was quoted on January 31 by the Mehr news agency as saying that Tehran intends to invest in Afghanistan and assist its neighbor in the fields of technology and construction.
Why It's Important: Iran's Shi'a clerical regime and Afghanistan's Sunni Taliban rulers were once sworn enemies but have become allies. Differences remain between the sides. Tehran has yet to recognize the Taliban regime and deadly clashes have erupted between Taliban fighters and Iranian security forces along the countries' 900-kilometer border. But there has also been growing economic and political cooperation between the sides, which have both been hit by U.S. sanctions.
The announcement of an Iranian trade center in Afghanistan is the latest sign of deepening ties. Iran is one of the few countries that has maintained its embassy in Kabul. Tehran is also wary of the presence of Islamic State-Khorasan militants in Afghanistan, who have targeted the Taliban and the country's Shi'a minority.
That's all from me for now. Don't forget to send me any questions, comments, or tips that you have.

Until next time,

Mustafa Sarwar

If you enjoyed this briefing and don't want to miss the next edition, subscribe here. It will be sent to your inbox every Friday.