PRAGUE, July 12, 2006 (RFE/RL) -- The clay tablets were discovered in the 1930s by American archeologists in the former capital of the Persian Empire, Persepolis. They were then sent for study to the University of Chicago's Oriental Institute, where researchers say they contain a trove of information about the Persian Empire 500 years before the Christian era.

Abbas Alizadeh is a senior researcher at the University of Chicago and an expert on ancient Iran. He tells RFE/RL that the 2,500-year-old tablets constitute an invaluable part of Iran's historical heritage and provide details about the lives of ancient Persians.
"They are the only documents we have about the Achaemenid Period that give us valuable information about [Persian] society, [and the] economy, and how they built Persepolis -- for example, that they didn't use slaves, [or] that women had almost the same rights as men," Alizadeh says. "And many Achaemenid locations that we are still not aware of are cited there. [The tablets] are very important, and we cannot put a price on them; they are priceless."

In U.S. Care

The tablets have been on loan to Chicago University for seven decades to allow their study and translation.

But several Americans injured in the bombing of a Jerusalem mall nine years ago won a court ruling in June that would allow them to seize and auction off the collection.
About 3,000 Iranians living outside the country have signed a petition calling on the U.S. Supreme Court to step in to reverse the ruling. They argue that the Iranian people should not be punished for "whatever the Islamic regime of Iran is doing in the international arena."


Pursuant to a previous decision that ordered Iran to pay the victims more than $400 million based on its sponsorship of Hamas -- the U.S. court concluded that the university cannot protect Iran's ownership rights to the tablets.

That paves the way for the plaintiffs to confiscate them.

Iranian officials did not show up in court -- a factor that weighed heavily against them in the court's reasoning. But they protested as soon as news of the verdict emerged.

Iranian Response

Iranian Foreign Minister Manuchehr Mottaki threatened to retaliate if the ruling is implemented and the tablets are seized.

Other officials expressed outrage, too, saying they will appeal to the International Court of Justice, UNESCO, and other international bodies.

Iranian embassies around the world condemned the ruling, which they say violates international norms and regulations.

Last week, Iranian government spokesman Gholam Hossein Elham vowed that Iran would not permit its cultural heritage to be seized.

"Through [Iran's] legal actions and the efforts of all Iranians abroad, Iran's cultural heritage will be snatched from the claws of those who are not committed to any principles," Elham said.

About 3,000 Iranians living outside the country have signed a petition calling on the U.S. Supreme Court to step in to reverse the ruling. They argue that the Iranian people should not be punished for "whatever the Islamic regime of Iran is doing in the international arena."

Cultural Exchange

Alizadeh warns that implementing the U.S. court's decision could put museums at risk "by people who are trying to profit from tragedies."

"These tablets belong to a [whole] nation. And any government in power at any given time -- now, in the future, or in the past -- is merely the custodian of these tablets, not the owner," Alizadeh says. "Therefore you cannot seize them from the Iranian government -- or you would have to take the people of Iran to court, which is impossible. Butif the court disregarded these arguments and ruled in favor of the plaintiffs, then all of the world's museums would be in danger."

Iranian Vice President Esfandiar Rahim Moshaei heads Iran's Cultural Heritage Organization. He warns that the U.S. decision could endanger cultural exchanges at scientific centers around the globe.

Moshaei says he expects cultural and scientific institutions and organizations to oppose the ruling.

Alizadeh says the case has come as a surprise to many.

"When you speak to those who are involved in these issues, they can't believe this case has gone so far," Alizadeh says. "And as far as I've heard, this case will have no chance in the next court session."

Headed For An Appeal

The director of the University of Chicago's Oriental Institute, Gil Stein, has stated in a letter to Iranian officials that the institute remains committed to safeguarding the Persepolis tablets.

Stein called the tablets "every bit as unique and important as the original document of the Constitution of the United States." Reports suggest his institute will appeal last month's ruling.

On July 10, Iran's state news agency, IRNA, quoted UNESCO Director-General Koichiro Matsuura as suggesting that the U.S. court decision was "illegal."

Iranian officials have announced that they intend to hire experienced U.S. legal advice to seek the return of the tablets.


Saving Afghanistan's Heritage
Saving Afghanistan's Heritage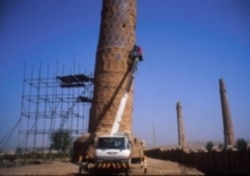 A UNESCO team working to stabilize Herat minarets in 2003 (UNESCO)

THE MINARETS OF HERAT: In Afghanistan's leafy western city of Herat, a two-lane road slices between the city's five remaining 15th-century minarets. Every truck, car, bus, motorcycle, and horse-drawn carriage that passes by sends vibrations coursing through the delicate structures.
In particular, the Fifth Minaret -- all 55 meters of it -- seems ready to collapse into a dusty heap of bricks and colored tiles at any moment. A large crack near its base makes drivers speed up just a little as they pass by....(more)



Click on the image to view an audio slideshow of this story by RFE/RL correspondent Grant Podelco.



RELATED ARTICLES
Afghanistan Protects Storied Bactrian Treasure
Archeologist Hunts For Third Bamiyan Buddha
Musicians Struggling To Revive Classical Heritage After Taliban
ARCHIVE
To view RFE/RL's complete coverage of Afghanistan,
click here
.

SUBSCRIBE
For weekly news and analysis on Afghanistan by e-mail, subscribe to "RFE/RL Afghanistan Report."