Rumsfeld Says Al-Qaeda Operating In Iraq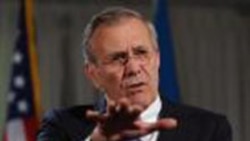 Donald Rumsfeld Shannon Airport, Ireland; 22 February 2004 (RFE/RL) -- U.S. Defense Secretary Donald Rumsfeld today blamed the Al-Qaeda terrorist group for violence in Iraq.
Speaking at an airport today in Ireland en route to the Middle East, Rumsfeld said Al-Qaeda operatives are "clearly involved" and "active" in Iraq.

The United States had made reputed links between former Iraqi leader Saddam Hussein and international terrorists one of the reasons for attacking Iraq last year. Since the end of the war, there has been little formal evidence to support that claim.