Iraqi Governing Council To Sign Interim Constitution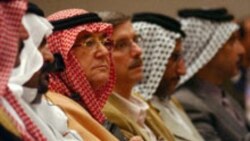 Baghdad, 5 March 2004 (RFE/RL) -- The Iraqi Governing Council is scheduled today to sign the country's interim constitution, which is intended to govern the country until an elected assembly can draft a permanent charter.
The draft charter recognizes Islam as one source of legislation rather than the only source, and gives autonomy to the Kurdish minority for now. It also includes a bill of rights. U.S. Secretary of State Colin Powell has declared the document a "major achievement."

Signing of the charter was pushed back from Wednesday (3 March) to today after the 2 March bomb attacks in Baghdad and Karbala. Officials yesterday updated the death toll from those attacks to at least 181.

U.S. Defense Secretary Donald Rumsfeld told the Reuters news agency that neither U.S. troops nor Iraqi security forces can completely protect Iraqis from such attacks.

In the latest violence, three Iraqis were killed yesterday when a rocket struck near a telephone-exchange building in the capital Baghdad.