Iran Rejects IAEA Resolution As 'Propaganda'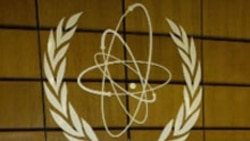 Tehran, 13 March 2004 (RFE/RL) -- Iran's Foreign Ministry has dismissed as "propaganda" a resolution adopted by the International Atomic Energy Agency (IAEA) today that criticizes Iran for hiding some of its nuclear activities.
The Iranian news agency ISNA cited Foreign Ministry spokesman Hamid Reza Assefi as saying Iran will not accept any new demands from the IAEA.

The IAEA adopted the resolution after a week of talks in Vienna. The resolution welcomes Iran's cooperation in allowing inspections, but criticizes Iran for continuing to conceal aspects of its nuclear development program.

Iran's Ambassador to the IAEA Pirooz Hosseini announced yesterday Tehran was postponing IAEA inspections of Iran's nuclear facilities for up to six weeks due to its New Year holiday, but today said inspections could resume sooner.

U.S. Ambassador to the IAEA, Kenneth Brill, today said Iran is continuing to pursue "a policy of denial, deception, and delay."