Dozens Of Casualties In Blast At Baghdad Hotel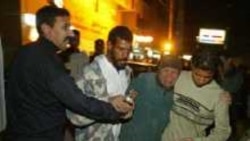 Baghdad, 17 March 2004 (RFE/RL) -- A huge blast rocked a hotel in central Baghdad tonight killing at least 27 people and injuring some 40 others.
There was no immediate confirmation of what caused the explosion, which left the Mount Lebanon Hotel in flames, but a U.S. military spokesman is quoted as saying a huge car bomb was responsible.

There are fears people are still trapped inside the flaming building. The hotel is among smaller hotels which had not been equipped with the sort of elaborate security and protection usual for the Iraqi capital's major hotels catering to Westerners.

The hotel was mainly used by Iraqis and other Arabs. The blast came amid extra security during the run-up to the 20 March one-year anniversary of the start of U.S.-led invasion of Iraq.