EU Leaders Reject Purported Al-Qaeda Peace Offer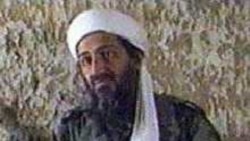 Osama bin Laden Prague, 15 April 2004 (RFE/RL) -- European nations are rejecting an offer of a truce, purportedly made by Al-Qaeda leader Osama bin Laden on an audiotape played by Arab satellite channels earlier today.
European Commission President Romano Prodi said there is "no possibility" of European nations accepting such a deal under what he said was a "terrorist threat."

Incoming Spanish Foreign Minister Miguel Angel Moratinos said Spain will ignore the message, and Spain's incoming Prime Minister Jose Luis Rodriquez Zapatero promised to deploy all means to continue the fight against "terrorism."

Earlier today, Italy and Britain also rejected the offer of peace.

The voice on the tape offered a truce with European states "that do not attack Muslim countries," adding that there would be no such truce with the United States.

The tape has not yet been authenticated.