U.S. Forces Raid Chalabi's Baghdad Home, Offices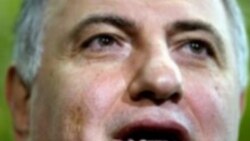 20 May 2004 -- Reports say that U.S. troops and Iraqi police today surrounded and searched the residence of Iraqi Governing Council member Ahmad Chalabi.
Chalabi, a former Iraqi exile who heads the Iraqi National Congress (INC), was once seen by Washington as a possible candidate to head a democratic Iraq.
After the raid, Chalabi said that a confrontation between his guards and U.S. troops was barely avoided.
"I was asleep, I opened the door, and the police went into my room, carrying pistols. They had been through our rooms of the house. I told them to get out. They said: 'We are slaves under orders,'" Chalabi said.
A furious Chalabi told a news conference in Baghdad that his relationship with the U.S.-led coalition in Iraq is now "nonexistent." Earlier this week, the Pentagon stopped funding Chalabi's political party.
The party provided the United States with intelligence in the lead-up to the war which has since been questioned.
(DPA/AP/RFE/RL)
Related Story:
Iraq: U.S. Ends Payments To Chalabi's Iraqi National Congress